Name Cork's New Bridge after Mother Jones
It was bordering on scandalous that neither Hilary Clinton nor Donald Trump made any reference to Glen Rover's historic two-in-a-row county titles in their head to head last Sunday night in St. Louis.

Both Republican and Democratic backroom teams and selectors had plenty of time to brief their candidates on the result from Páirc Uí Rinn but neither chose to acknowledge the real elephant in the room.

During their election campaigns past U.S. Presidential candidates Franklin Roosevelt, Richard Nixon, Gerald Ford and Ronald Regan all made references to Cork GAA fixtures and results and look how it worked out for them.
Graham Callanan brings the cup over the Christy Ring bridge last Sunday

Ford went as far as lauding the unexpected Imokilly victory over Carbery in the U21 football decider in late 1973 and ended up in power during Cork three-in-a-row of 1976-1978.
Roosevelt, said to be a lifelong St. Finbarr's fan, wished his team well against Carrigtwohill in the 1932 senior hurling county final which the Barr's won by 1-6 after a replay. The statement swung opinion polls in favour of the Democrat who went on to sit in the White House until 1945.

The PROC is still expecting Donald Trump, who owns a golf course in County Clare, to make reference to Cloyne's Donal Óg Cusack's retention as a selector and coach with the county for the 2017 season. Given his limited vocabulary it likely that he will refer to the former Cork goalkeeper as "tremendous" in the hope of making a late charge in the polls against his bitter Democratic rival.

Some acknowledgement of the Cork ladies footballers and their recent achievement would probably be counter-productive for the bungling billionaire businessman given the recent release of recordings made of the New Yorker making derogatory comments about women but a tip of the hat from Hillary to Reena Buckley and Briege Corkery would help her win over the massively influential Cork-American vote when yanks go to the ballot on November 8th.

On Sunday evening, several hours before the big debate in St. Louis, Glen Rovers team bus along with hundreds of their jubilant fans stopped on Lavitt's Quay just outside the Opera House to carry the Seán Og Murphy Cup across the river to the Northside.

The Christy Ring bridge is named after the Cork, Cloyne and of course Glen Rovers legend who was part of the 1941 Ballyvolane side that also included future Taoiseach Jack Lynch – they won an incredible eight county championships in a row.

Captain Graham Callanan, himself a former Cork senior intercounty hurler, walked the cup for the second year over the bridge followed closely by his triumphant team and a trail of cheering Glen Rovers fans. What a fantastically fun and typically quirky Cork tradition (and a very perplexing one to the mystified foreign onlookers – many of whom seemed worried that it was the invasion of a partying army) – one that has been captured and viewed by hundreds of thousands of people on social media.

The tradition shows that in victory the Cork sense of humour and fun still prevails – rumours that defeated finalists Erin's Own might have been establishing a tradition of their own by walking the cup through the tunnel on the way back to Caherlag will have to wait another year to be confirmed.

Speaking of bridges and Cork traditions it looks like the new proposed Harley Street Bridge between Patrick's Quay and Merchant's Quay will again be named after a man.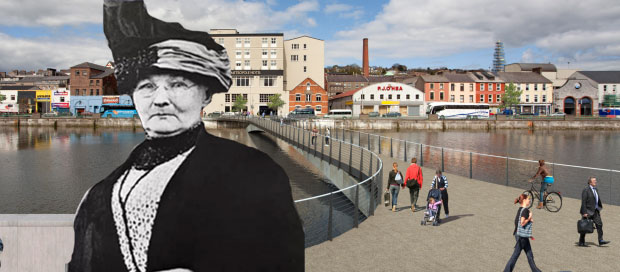 Mother Jones was the quintessential Rebel and we should name the Harley Street bridge after her.

Harley Street is the little known narrow street running up to MacCurtain Street from the quay along the side of the Metropole hotel and was named after the merchant John Harley.

Only one out of the city's twenty two bridges take the name of a female - the Nano Nagle footbridge between Grand Parade and Sullivan's Quay – so isn't it about time we spread the honours around a bit to Cork's great women?

With the misogyny of America's elite splashed all over our newspapers there would be no better time to honour a Leeside lady. Mother Jones (aka Mary Harris Jones), with her strong American connections and keen sense of social justice for the less well off, springs to mind as a prime candidate. There's already a small but budding festival honouring the Shandon native every August.
The most important thing about the building of the new bridge however is that it will mean Cork city centre will have 23 bridges over the River Lee – crucially that's one more bridge than Dublin city centre has over the Liffey making the People's Republic the official Capital of Bridges- and just like the victorious Glen Rovers celebration on Sunday we could sing and dance about our bridges until the rest of the country is sick of it.

Cork could flaunt itself as a place where bridges are built – not just physically but metaphorically - unlike what we are seeing in the U.S. at the moment where it seems they are only being burned. Mother Jones would surely approve.
Posted on May 14th, 2018
With the concrete pillars and devoted crowds those not familiar with the area might confuse it with Mahon Point Shopping Centre but the all new Páirc Uí Chaoimh is more than a smell of coffee, big brands and long lines of traffic.
Posted on May 4th, 2018
Top 5 touristy things his nibs should do while he's in Cork. We've even worked out how to play 'Shape of You' on the Shandon Bells for him...
Posted on Apr 12th, 2018
The #Panaban on cars from 3.30pm to 6.30pm in the city centre is having a devastating effect on Cork's jaywalking community...
Posted on Mar 27th, 2018
At Shaky Bridge Analytica we throw more shapes than a Midleton dance school and more balls than a Southside driving range. We specialise in data analytics and metaphors...
Posted on Mar 27th, 2018
At Shaky Bridge Analytica we throw more shapes than a Midleton dance school and more balls than a Southside driving range. We specialise in data analytics and metaphors...