Majority of People in Skibbereen Will Have Won Rowing Medals by 2025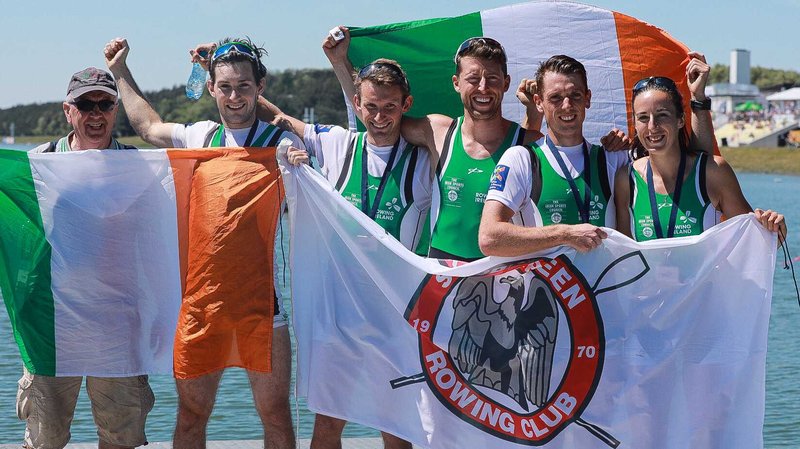 A new plan compiled by authorities in Skibbereen and seen by the PROC Investigation Unit estimates that most young men and women in the town will hold medals from major national and international rowing events by 2025.

Furthermore in thirty years time it is projected that the number of people from the town who have achieved a podium finish at the highest level in the sport will exceed the total number of people living in the town. And in fifty years time there will be more medals in the town than there are rowers in the world.

That's the kind of upbeat yet realistic attitude to sport that we at the People's Republic love to see. Let's not aim too high, like!

Take last Sunday morning for example - an ordinary non-championship Sunday. While most of us were still in bed Mark O'Donovan and Shane O'Driscoll were winning Gold at the European Rowing Championships in the Czech Republic with Gary O'Donovan, Paul O'Donovan and Denise Walsh bagging silver medals shortly afterwards. Nothing out of the ordinary if you're from Skibb of course – even the post-match interviews that went viral were just regular around-the-town banter.

The sensational Skibb victories coupled with Cork City's 4-1 humiliation of Shamrock Rovers on Friday night rounded off a great weekend of sport on Leeside – as long as you don't mention the near-miss at the Fraher Field in Waterford on Saturday that could have been the worst result for Cork sport in the history of sport – and that includes when Gougane barra unexpectedly lost to the Kilmichael Kidnappers in the Division 1 Wife Stealing League of 1548 A.D. (they beat them later on in the championship by just one wife but it was the start of a major decline for that great team).

If you have been distracted by the medal haul and the drubbing of Shams at the Cross then maybe it's best you stay in your Cork bubble and all that needs to be said is that Cork footballers will be there to play Tipperary in the Munster semi-final next Sunday week. Just about.

Oar to be a…oar to be a….Rebel!
Posted on Jul 16th, 2018
It's time to hand the event centre tender over to the Peeple'a'Cork. Just give us 100 Saturdays and we'll knock it together. Anyone have a spare trowel?
Posted on Jul 2nd, 2018
It has been very dry over the last few weeks and things are tough all over the country but did you hear about how bad the drought is up in Clare? They haven't won a Munster title now in 20 years.
Posted on Jun 29th, 2018
We have the weather so now all we need is to drive like lunatics, make siestas legal and look a lot more philosophical whilst smoking....
Posted on Jun 19th, 2018
We turn the slightest, most tenuous Cork connections to other countries and their players into blind loyalty so you have a reason to scream 'C'MON ON D'REBELS!' at your telly every night for the next month...
Posted on Jun 12th, 2018
Read our guide to holding up traffic, driving at terrifying speeds through villages and sleeping in your tractor....all so Chinese women can give up breastfeeding...