Lee Fields In My Tourism
The Lee Fields in My Tourism
Vank Van Oofer
I am happy to come back to Cork this time again as I am spending more time in the place that I have fallen in love with. A man I met in Ireland before is asking me on the telephone to help him with getting some drugs here for his sick mother so no problem.

I shove them in my ass and travel here again looking forward to spending a lot of time with the crack and black beers. I decide to have many pleasurable experiences while I am in Cork again. However I have learned that trying to have sex with the Blarney Stone in my tourism is not good for the locals. Next I try to make some of my own adventures in swimming in the waters of the city.

The Germans in the hostel have told me that the Lee Field is the goodest place to begin my experience. While I am walking toward the Lee river I am noticing an announcement which is advertising the dangers. Now that I am in Cork and also on my holidays I am feeling crazy so I think experiencing the freedoms of the Lee river will be an enjoyable feeling. However like most europeans I have brought an unnecessary amount of safety equipment with me and have decided to wear all of it for my experience. (Hey hey! notice the colour of my safety jacket, the colour of our soccer team yes ?) I also have in my keeping a flat piece of floatation equipment. This will be my boot and will add to the safety of my person whilst in the water.
First I practice on the flat equipment to understand how to balance. I am finding that it is very difficult for me but it is an opportunity to test all my safety and breathing equipment. Then I tell myself to go the water. Wow! Fuck man this is cold shit you have here. Just like at the bars in the city quickly I am making friends because I look weird.

There are two persons already in boots with paddles there who I am finding difficult to tell if they are men or female. Maybe one of each ? I ask them if they are liking sex in a group but they are laughing at me saying 'I don't think so'. I am not disappointed because in the hostel there are many friends for me.

Next thing I know they are helping my tourism and bringing me places in their boots. Because I am European I wish to make my holiday very difficult (for example the Germans staying in the hostel with me are getting up each morning at 5am and cycle approximtely 100kms in the pouring rain for their fun) so I wish to make a challenge to myself to swim against the quickly moving water. Hey! I also succeed in this task with the help of my new unisexual friends who are pushing me up there many times. Thank you guys.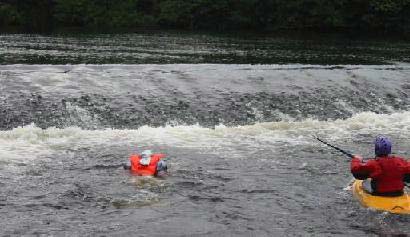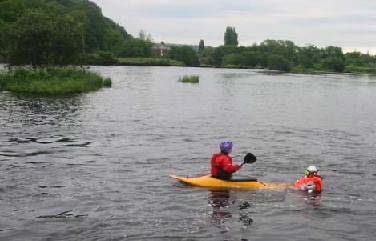 Wow I'm so tired now I could eat an enitre Fergaterhoote! It is time to also to leave now but it is important to have photos to show to my girlfriend and boyfriend when I return to my homeland. My new friends are telling me that the County Hall is the second biggest building in the world. Wow! right here in Cork.

The still men outside are called Cha and Miah. Hey I think this picture looks funny because I am doing the looking up too. It's funny because I live on floor 45 in my apartment in Amsterdam but they are still making the 26 floors here much taller. Cool. At this time it is getting dark and now time for me to quickly go back to the hostel where I will be sleeping soon with all my friends there. I am looking forward to another swim in many other places very soon.

Hey and if you see me in my tourism please say a big "Hello Vank!" and maybe I'll see you in the Hi-B for black beer and some jokes. See you next week.
| | |
| --- | --- |
| | |
Posted on Nov 3rd, 2002
Dutch individual Vank Van Oofer makes his first trip into the city centre to find a place of leisure but tells us he can't be crazy everyday
Posted on Oct 31st, 2002
As if getting into that fountain on Shandon Street wasn't bad enough Dutchman Vank Van Oofer takes a trip to the Glen which is now apparently inhabited by legendary reggae star Bob Marley...
Posted on Oct 31st, 2002
Once again the tight fisted Dutchman Vank Van Oofer is determined not to part with any grade for a swim. This time residents at The Lough are subjected to his wonderings...
Posted on Oct 31st, 2002
This week Vank Van Oofer finds that the water in the North Gate Bridge fountain is suspiciously warm. He tries to join in the warming himself...
Posted on Oct 30th, 2002
Tourist and freedom lover Vank Van Oofer took a trip to Cork and he found the Bus Station...