Kings of Kanturk

'Mol an óige agus tiocfaidh siad' they say and if the small but increasingly dominant town of Kanturk in north-west Cork produces anymore bright young stars parents all over the county will end up moving there in the hope of producing Corkonians as brilliant as the twenty-somethings currently coming off the town's unrelenting conveyor belt of talent.

We have already written much about our theory that Clonakilty might be the jewel in the crown of Cork towns but Kanturk, with just 2000 humans to its name, is different in that it isn't just producing a sickeningly harmonious philanthropic, charitable and caring community like Clon, it is churning out talented young Corkonians that are impressing not just their fellow county men and women but the entire world.

Here are our top five exhibits:

Midfield Maestro
If Cork had to put forward a specimen of the county's fine young athletes then Aidan Walsh would be a very worthy candidate. A midfield powerhouse at inter-county level the Kanturk footballer won his first All-Ireland medal in 2010 making minced horse meat of defences up and down the country, catching kick outs and brushing off brutal tackles with startling ease.
Footballing prince Aidan Walsh smells a Kerryman's fart
At just 23 years of age and arguably the first name on Conor Counihan's championship team sheet, Walsh has plenty of years left to add to his haul of three national league medals, two all-stars and a Celtic cross and given his under 21 performances for Cork, if he tried his hand at senior intercounty hurling you can be sure he'd add more to that collection too.

From his bullish attitude on the football field so far this season it is clear that his hunger is showing no signs of abating – Kanturk's historians better keep the record books close to hand 'cos this fella is only getting started.

Sminky Sullivan
Jason Sullivan, creator of the brilliant Sminky Shorts series on Youtube may go down in history as the Cork and Kanturk person who officially won the internet. With about 30 zillion views of his short animated clips such as Cock-A-Doodle-Doo Boy and the Christmas Turkey the young producer has brought the prestigious , albeit unofficial, status of Internet Winner to the small north west Cork town.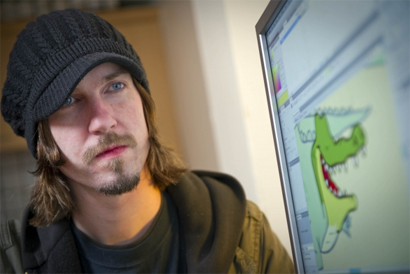 Sminky Sullivan looks likely to be the overall winner of the internet
We heard that American cable network Comedy Central was so taken aback by the quality and originality of Sullivan's humour that they may consider closing down altogether and conceding victory to Kanturk (the town council might consider offering them the land Tesco didn't build on for a new Irish base). Put your money on this fella for at least three Oscars and, if he's lucky, Freedom of Cork City.

Bangers and Nash
Anthony Nash's patience waiting in the shadow of Cork hurling goalkeeper Donal Óg Cusack has finally paid off as his mentor's unfortunate injury last season has seen the Kanturk man finally secure the number one jersey. Being a hurling goalkeeper at inter-county level is an amazing feat in itself - stopping a rock hard sliothar at a million miles an hour requires ninja fast reflexes and bravery of the highest order.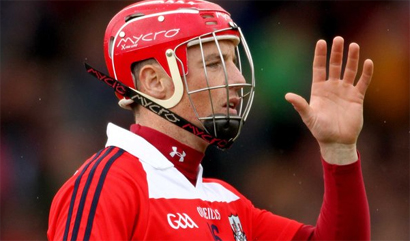 Nasher doing his karate kid routine to stay warm on the goal line
Nash has nailed all that stuff but on top of perfecting the basic skill set and replacing Donal Óg he has also replaced John Gardiner as Cork's long range free taker – landing stupidly long puck outs from well inside his own half between the opposition's posts. Someone needs to check what they are feeding these fellas above in Kanturk!

Pothole Champion
Who thought that young feisty Kanturk native Liam Keane just photoshopped himself into that picture of that criminally deep pothole below in Kanturk? To prove the existence of what is likely to be Ireland's, if not Europe's, biggest pothole (technically Dublin is only a hole and not a pothole) Comrade Keane bravely togged out in freezing weather and got his old doll to record a video of him swimming in the massive crater thus owning all the doubters.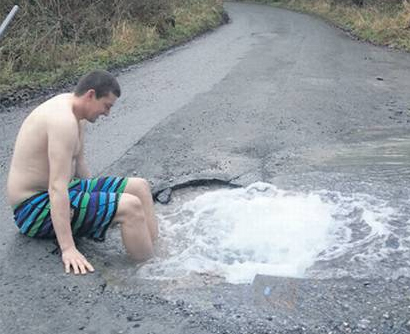 Liam Keane goes for a dip in a Kanturk bath
The escapade earned him and Kanturk widespread coverage on radio and television around the country just when the January blues were in full swing. What better way to take people's minds off a dull and damp start to the year then a bout of original Cork humour. Nice one Liam.
Rumours that the pothole was created by locals looking for oil remain unconfirmed. For decades Kanturkonians have been convinced that oil exists under land near the town – if it is ever found it will mean the town will become entirely self sufficient and locals will be seen wearing traditional Arab robes and headdress.
Goldy Locks
With Kanturkonian Aidan Walsh bossing midfield in football, it seems Jimmy Barry Murphy thought he might try the same. Almost identical in age to his footballing comrade, Lorcan McLoughlin has stepped up a gear this year and is already showing signs of what we might soon call 'Kanturking' midfield for Cork – the art of bossing your territory like a ruthless mafia don.
Lorcan (No.9) flicks a point over the bar against Tipperary in the 2013 league game at Pairc Úi Rinn. Click here for more
After the opening weekend of the National Hurling League, footage of McLoughlin's sensational overhead flicked point against Tipperary has become an internet hit. On the same weekend Irish rugby players paid hundreds of thousands of euro couldn't perform basic tasks like catching and holding on to a foot long ball - the Kanturk player's wrists making these so-called pros look like clumsy Kindergarten kids.

Note to readers: these men are now on the Official Peoples Republic of Cork Free Pints list. If you see them out, you are obliged to buy them a Beamish or Murphy's.
Posted on Feb 26th, 2013
With Cork's destruction of Tipperary in Pairc Ui Rinn on Saturday night by about a hundred points it has been confirmed that the Official End of the World has been cancelled...
Posted on Oct 27th, 2011
The Rebel Army descend on Drumcondra this Saturday for the final game of the season in which a victory will result in the club winning the league. If you're in Dublin head along to support the team....
Posted on Jul 13th, 2011
Auld fellas and their defibrillators, fat lads getting ballhopped and death-by-triathalon-boredom, the hills of Cork can save you a ton on gym membership but come with a few hazards...
Posted on May 6th, 2011
Kilkenny's embarrassing Croke Park meltdown last Sunday is fantastic news for the Irish economy as stocks and shares rally...
Posted on Feb 15th, 2011
Go to the Big Tree before the Cork V Dublin match this Saturday night and help raise funds for Special Olympics...