Kc and Lenny up for a Meteor
KC & Lenny Up for Meteor Award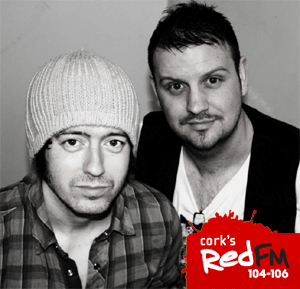 Text rdj1 to 085 7114444
TWO CORK DJ's are hoping to become
cock
of the walk after their Breakfast show has being nominated for a Meteor Award.
KC and Lenny, who present the Red Rooster on RedFM are the only radio station representing the rebel county.


They are hoping to bring back the Best Regional DJ Award for the second time. Last year KC won the award after a solo nomination and is hoping for a repeat of that success, "Last year was an incredible achievement for me, but this year we have a joint nomination for the Rooster and if we get the kind of support I got last year then we have a great chance of bringing this award back to Cork again."


The duo have been presenting the show together now for the last three years and have already won the Best Breakfast Show in Ireland at the P.P.I. radio industry awards last year.

This year there are six nominees in the Best Regional DJ category and co-presenter Lenny, who hails from Blarney is aware of the tough task ahead, "We are up against some really tough competition, with shows from Dublin, Galway and Limerick but being the only rebels in the line-up we're very excited because we know how fantastic the support from Cork has always been" adding that if they win, "KC is willing to do his own kinda bob-a-job thingy reliving his Cub days by doing any odd jobs people have about the house, so if ye have a cow that needs to be milked or a few slates that need replacing, get voting!"
The Meteor Music Awards, which are taking place on St. Patrick's Day at the RDS, are a respected nod to the achievements of both Irish and International acts in music. This year they are presenting by former model Amanda Byram, currently co-hosting "Total Wipeout" alongside Richard Hammond for the BBC.
If you would like to vote for KC and Lenny, just text rdj1 to 085 7114444.

Posted on Jul 18th, 2011
The beer gardens of Tom Barry's and Fionnbarras host the official Murphy's LBNO bbq of summer 2011. Space is at a premum so click here to find out how to get tickets...
Posted on Nov 9th, 2010
Ash, Slow Motion Heroes, The Undertones, Number One album artist Cathy Davey, Fight Likes Apes, James Vincent McMorrow and Fred...
Posted on Nov 3rd, 2010
Win a pair of tickets to the juggernaut of excitement hitting Cork at the Arc Arena from Novembr 19th-21st
Posted on Jun 10th, 2010
See the play that won the biggest award at the 2009 Edinburgh Festival. For free at the Everyman!
Posted on May 23rd, 2010
Murphys lays on a savage nosh up at Tom Barry'