Justin Barry "My Side" - Chapter 3

Justin Barry, "My Side"
Chapter 3
Well it's been all go go go for the big guy lately I have to say, up the walls in the orifice and had to move all my gear and other unsavoury belongings to my new abode up in Eagle Valley over the weekend. Basically I have been living in an apartment in Wilton for about the last year with a couple of ridiculous randoms, so when Stevie Murph suggested I move in with him and Dave O'Mahony, I took the chance to make good my escape. The lads have been shacked up here for a while, but the other dude who was sharing with them decided to head to South America for a bit, to ehh...further his career. I didn't know there was such a demand for lads with degrees in Irish History down there. What a champion.

Anyhoo, I didn't get the chance to view the room before moving in but I was promised by the lads it was in good nick. Imagine the look on my face when I saw what an absolute khazi I had signed up for, eighty-five sheets a week too if you don't mind. Pete Doherty would have left it in better condition. So Saturday was a fun-filled day - scraping chewing gum off the carpet, dusting away like a mad thing and drowning the place with about three bottles of Haze air freshener, peach and jasmine fragrance, only the best. The place was just about habitable after that. I told my mum she deserved to put her feet up for the night and open a nice bottle of red after all that.

Then I had to find space for all my stuff, and of course, given that the room is about eight square feet in area, some cuts had to be made. I never realised that I was in possession of every Maxim going back to April 2005, oh the memories. I chucked out most of them but passed on the delights of the 2006 Hot 100 supplement to Stevie which I knew he would appreciate. I have already read most of it myself anyway.

So we settle in for the Argentina match anyway on Sunday afternoon, with the fridge nicely stocked with beverinos. Only trouble was that Dave has the thing clogged up with salad and all sorts of other horrible stuff, so we have to employ a rotation policy to get our beers cool enough, something Eddie O'Sullivan would have really struggled to get his head around. Dave's girlfriend Miriam comes over with a couple of her friends to watch the game. God she is some pothole, blabbing away incessantly when I'm trying to hear what the TV3 lads have to say about our chances. Of course she has absolutely no interest in the game herself so she is just determined to ruin it for everyone else.

And her friends are not much better - birds of a feather and all that. If the Irish lads thought they had problems over in Paris, they'd want to spend a bit of time with this lot, the real group of death. None of them are even gatting, boringsville south central. They'll drink tea for you though by God. They have that feckin kettle whistling away all afternoon and they have laid siege to the biscuit tin, like a bunch of vultures on the jaffa cakes.

And of course we have to give them the rundown of the rules after every break in play, which I wouldn't mind except that the only half-decent looking one is actually going out with some steamer called Adrian wouldn't you know, "Adrian plays for the Sunday's Well team, he's really good". I am literally tossing her a twenty at this stage. The other one, Susan, is jumping around like a kid when O'Driscoll gets his try, "Oh my Gawd...ooh my Gawd!!" Give me a break, whatever chance she had before, I wouldn't ride her into battle now. When Dr. Phil knocks over his last penalty, it's 'ou et la petit felous' for the team and my despair is complete.

Ah well, as the French say themselves, nothing for it but to gatt on. That pair of wet blankets head off thanks be to Allah, but no such luck in the Miriam department, who seems to be installed for the night, which means we can't even have a laugh because we have to watch our Ps and Qs around her ladyship.

Seriously tempted for a bit of townage but I know I could be looking at the biggest bloodbath since the Battle of Hastings - a lot of heads on the wrong end of a serious session, a sea of enormous sweatpatches covering those tight Irish jerseys. And that's just the women. Every Tom, Dick and Harold will be playing the role of George Hook, dissecting the shite out of "how it all went wrong for the boys, we had a great Six Nations". Ya, let me just get this straight, you've been watching rugby for a whole year and a half now did you say buddy? No, not for me I'm afraid.

Besides, I need to be in some sort of respectable condition for work in the morning - those mergers won't close themselves. There's sweet fuckall on the box and my stomach is beginning to grumble with discontent, and then the masterplan hits me like a thunderbolt. I turn to Stevie and go,"Four Star meal deal combo plus The Naked Gun trilogy my good man?" "Well that's very impressive, but we've got a job to do", he replies, which qualifies as a yes in the world of Police Squad. A big beast of a pizza with cheese dripping off it, wedges and garlic bread, followed by five hours of Frankie D at his best. What more could a guy want, just the job to get over the rugby. Miriam is brooding away in the corner,"How do you find this funny like?" I'd say she has a sense of humour. Some people just have no idea what good police work is all about.
Frank Frank Frank...you absolute legend.
by Conor Ward


Posted on Jul 17th, 2008
Its ACC Cork Week at Crosshaven. Who else could we dispatch in a pair of dubarrys and a musto jacket but Casanova himself...
Posted on Jun 30th, 2008
Ladies of Cork be wide. Its taken him a while to shake off the winter blues but law boy is back on the prowl...
Posted on Dec 19th, 2007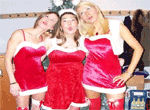 Cork's gift to women has been looking forward to his office Christmas party for quite a while...
Posted on Nov 30th, 2007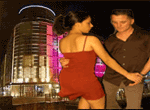 In another of his notorious attempts to land a score, Law boy tries his hand, and hips, at salsa in the Woodford..
Posted on Nov 7th, 2007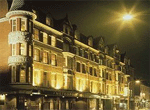 The Metropole was full of talent during the jazz festival as our number one trainee solicitor found out...