Jaywalkers Up in Arms Over Pana Car Ban
It's not just Middle Parish residents and North Main Street traders that are up in arms about the decision to pedestrianise Patrick Street - what are all of Cork's jaywalkers going to do?

The ban on cars is like removing hurleys from east Cork – it disempowers the thousands of Cork pedestrians who wander aimlessly across Patrick Street every day of the week giving drivers heart attacks, cold sweats and white rage.

"Going into town just won't be the same anymore", said Assumpta Murphy, a seasoned jaywalker of almost fifty years , "the freedom of strolling across a major roadway into oncoming traffic and dipping into a gap between cars barely wide enough to fit you is one of the real reasons I go into town instead of out to Blackpool."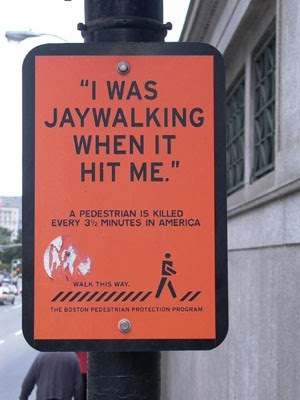 The Cork style of jaywalking is a traditional skill, like drisheen or hurley making, that has been handed down through generations of Leesiders. The timing of one's saunter or dash across Ireland's most famous street (and that used to be a river) is crucial.

The perverse feeling of smugness that fills us Cork shoppers as the front bumper of an articulated truck brushes the back of our jackets while we nip across its path is a thing of beauty – you just have to be pure Cork to understand it.

If you're lucky your shopping bags might even get nicked by the bull bars of an SUV or you might feel a warm puff of fumes from the exhaust of a boy racer on your calf as you cut behind his fast moving spoiler with just millimetres to spare and dip into the path of another car who hits the brakes and roars muted blue murder from behind the windscreen. You brazenly skip onto the pathway - entirely oblivious (or at least that's the face you put on) to the searing rage you've left behind you.

For disappointed jaywalkers however, there is something to cling to. The street will only be closed to private cars from 3.30pm to 6.30pm- a proper political fudge given that the proposal was a full on ban - so jaywalkers who wish to practice their art will have to be into town good and early.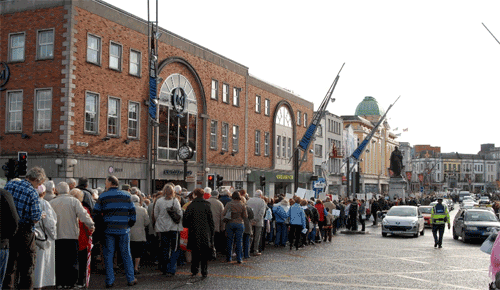 Cork's jaywalkers queue up for a traditional saunter across Patrick Street

Concerns have been raised among the powerful lobby group Cork Jaywalkers 4ever Club who fear that the ban will have a negative impact on up-and-coming young jaywalkers – especially those who usually leave school around 3pm and head to Patrick Street to train. They will now only be able to risk their lives in front of a few buses and commercial vehicles driven by professional drivers who are trained to spot jaywalkers.

Those who play the biggest computer game of all time, Pokémon Go, recently found themselves lumped alongside the city's battalions of jaywalkers as Pana drivers' worst enemies – the online mobile game requires players to walk around the real world with their phone's GPS receiver turned on to "catch" Pokémon. Gamers have been putting themselves in all sorts of danger by watching their screens too closely instead of what's ahead of them with some spectacular near-misses in recent weeks – much of it filmed on social media.

The huge reduction in traffic is likely to be a boon for Pokémon Go addicts who will be able to wander up and down Pana without the fear of being knocked down by a car. The only thing they'll need to look out for are angry traders from North Main Street who are up in arms.

Posted on Jun 19th, 2018
We turn the slightest, most tenuous Cork connections to other countries and their players into blind loyalty so you have a reason to scream 'C'MON ON D'REBELS!' at your telly every night for the next month...
Posted on Jun 12th, 2018
Read our guide to holding up traffic, driving at terrifying speeds through villages and sleeping in your tractor....all so Chinese women can give up breastfeeding...
Posted on May 25th, 2018
With 18 All-Ireland medals and 10 All-Stars Rebel Reena Buckley has retired. Resident PROC poet John Paul Valentino has been spending soime quality time in his poetry isolation chamber...
Posted on May 14th, 2018
With the concrete pillars and devoted crowds those not familiar with the area might confuse it with Mahon Point Shopping Centre but the all new Páirc Uí Chaoimh is more than a smell of coffee, big brands and long lines of traffic.
Posted on May 4th, 2018
Top 5 touristy things his nibs should do while he's in Cork. We've even worked out how to play 'Shape of You' on the Shandon Bells for him...