It's Raining Forwards
Cork hurlers have been promoted to Division 1A after disposing of Wexford on Sunday afternoon in Pairc Úi Rinn. Undefeated, JBM's troops have grafted, rather than crafted, their four back-to-back wins after a disappointing opening night home draw against Limerick but in the process have shown that there is no let up to the unearthing of talent looking to grab starting jerseys with double-digits.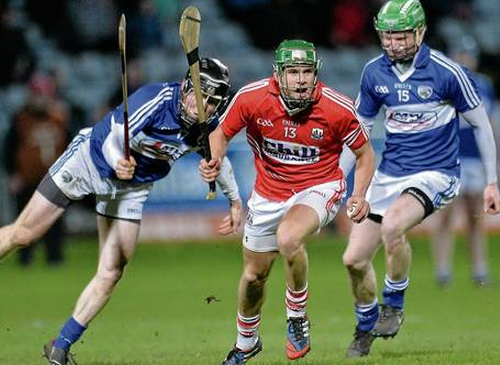 Mini-Cads on the prowl against Laois

Cork will now face Tipperary in Thurles next Sunday afternoon in the league quarter final. The premier have been looking a little ragged of late but at least have been playing top teams whereas the Rebels know they will have to up sharpen up after six weeks of challenge matches against minnows and also-rans.

Some of the defensive holes that appeared in the 2013 All-Ireland finals, when we leaked 8 goals in two games, are a cause of concern. The sweeper system is clearly intended to plug costly holes but Wexford's opening goal showed that it is still very much a work in progress.

It's easy to be positive too though. It's still only March.

The stick work and first touch is crisp and sharp - and the giddy buzz in the stands is back when we see it in the flesh. Three years ago a mid-March clash with Wexford might have drawn two or three thousand fans but over five thousand shouted on the Rebels yesterday and saw plenty to be positive about.

Big local brands, that seemed to have drifted away in recent years, are back too and adding to the sense that Cork hurling "is back". Beamish and Murphy's are an official partner of Cork GAA again. The absence of turmoil and visibly content camps in both codes brings in results that aren't just displayed on scoreboards for Cork GAA.

Hoggie and Shieldsy with JBM.
Beamish & Murphys are now 'proud partners' of Cork GAA.


To be fair, Murphy's are laying it on too: a thousand free pints are being released via their 'When it Rains It Pours' app in the run up to every Cork senior hurling or football clash: another very good reason to get out and support both teams on a Sunday afternoon.

Post-match chats in pubs around Pairc Úi Rinn yesterday were cautiously optimistic and JBM's interview probably summed up any rational fans' feelings: job done with the promotion to 1A but loads to work on.

That beautiful pre-championship excitement is building nicely though – any league campaign with even one "find" is positive but JBM seems to have unearthed a few: Alan Cadogan and Paul Haughney, both of whom were very impressive in sending the yellow bellies home with their tails between their legs, are all the talk between sips of Sunday evening stout.

Long running concern about aerial aggression in the half forward line seems to be abating. Lehane, Harnedy and Horgan have had very good leagues. Aidan Walsh has been impressive too and with the return of Paudie O'Sullivan imminent and Alan Cadogan heaping pressure from the bench, it suddenly seems the panel is being flooded with buckets of talented forwards.

When it rains it pours, indeed.
Sunday March 30th
Allianz Football League Division 1 Round 6, Cork v Tyrone, 3pm @ Páirc Uí Rinn
Allianz Hurling League Quarter-Final, Cork v Tipperary, 3.30pm @ Thurles
* remember clocks go forward one hour this Saturday night!
Posted on Jul 16th, 2018
It's time to hand the event centre tender over to the Peeple'a'Cork. Just give us 100 Saturdays and we'll knock it together. Anyone have a spare trowel?
Posted on Jul 2nd, 2018
It has been very dry over the last few weeks and things are tough all over the country but did you hear about how bad the drought is up in Clare? They haven't won a Munster title now in 20 years.
Posted on Jun 29th, 2018
We have the weather so now all we need is to drive like lunatics, make siestas legal and look a lot more philosophical whilst smoking....
Posted on Jun 19th, 2018
We turn the slightest, most tenuous Cork connections to other countries and their players into blind loyalty so you have a reason to scream 'C'MON ON D'REBELS!' at your telly every night for the next month...
Posted on Jun 12th, 2018
Read our guide to holding up traffic, driving at terrifying speeds through villages and sleeping in your tractor....all so Chinese women can give up breastfeeding...