PROC Guide to Presidential Elections
Corkonians' Guide to the Presidential Election
The infamous words of 'East Carrigaline' rapper The Assasin "voting works, hey yo, respect this, if you don't vote you will remain powerless" are solid words to live by but the irony is that the person who wins will be pretty powerless themselves.
Nonetheless, the relatively lively campaign has been a welcome distraction from mundane news stories about panicking stockmarkets, EU dithering and the unmentionables winning Sam Maguire. If you're not sure how you'll vote our completely fair and perfectly balanced summary of each candidate may help you to decide:
The Cute Huaire
Seán Gallagher married a Cork woman so you've got to admit that this cute huaire Cavan man has his head screwed on. Although it seems to be twisted on to his shoulders so tight that we never see his neck - which might explain 'the neck' he has to say his friends in Fianna Fáil didn't make a balls of the economy.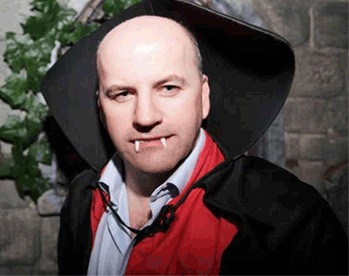 Gallagher: Tight haircut and even tighter pockets

Well known because he was as tight with his money on national TV he was the least cocky Dragon on the Den and often spared contestants the unnecessary humiliation doled out by the other three langers and langerette.

He says wants to create jobs by flying around the world on our behalf. Posh hotels, champagne breakfasts and presidential suites at a time when most Corkonians are to the pin of their collar? That's some cheeky sales pitch.
The Gameshow Host
Ah c'mere wouldn't David Norris be far better off as a flamboyant shouty Saturday night game show host on one of the English channels? Every time he opens his beak he sounds like he's giving away a holiday for two to Torremolinos.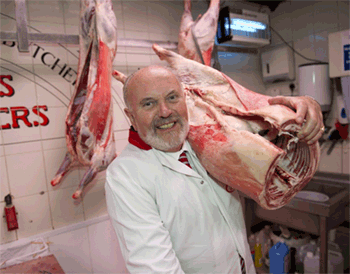 Norris loves a bit of meat

An extensive record of high brow speeches and impeccably good grammar in Ireland's official talking shop doesn't give the senator's resumé much punch. Neither do his Dublin-centric interests. His biggest fault seems not to be letters to Israeli judges but an inability to make a connection with people from outside the south Dublin bubble.

You'd love to get him to a GAA match and then into the clubhouse for a few Beamish afterwards with the lads – he'd undoubtedly be mighty craic for an hour or two but would you want him mincing around the Bejing government buildings or The Kremlin frightening everyone with his unfettered campness on your behalf?
Photo: http://corkindependent.com/blog/david-norris-caption-contest/david-norris-cork-11/
The Talking Resumé
Most people write their CVs down when they're going for a job but ask Gay Mitchell any question be it about his campaign or the weather and he'll respond with a never-ending oral list of jobs and personal achievements.

His overwhelming sense of entitlement for the job is palpable and to be fair he hasn't murdered anyone either but he seems to have forgotten that voters want to see every candidate's face occasionally untwist itself out of a scowl. Giss a smile there bubbila?!
The biggest flaw for Cork voters is that this man is a true blue Dub. Remember the last dyed in the wool Dubliner who got control of this country? We lost our sovereignty and he ended up in a cupboard.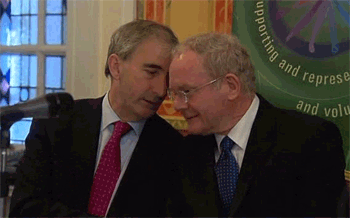 'I got three B's and four C's in me intercert'

The Phillibuster
One of the standout features of the campaign so far has been the cheeky refusal of "Mortin" McGuinnes answer straight and direct questions and to continually run down the interview clock without giving away any real idea of what he has planned for the Áras.
"Martin, were you responsible for IRA murders in the seventies?"
"Woll, what I'd like to talk about is the steps that have been made since then and not to dwell on the past…"

If he becomes Uachtarán na hEireann his inability to answer a question may not go down well with other heads of state when translators pass on their Arabic or Hebrew translations.
"President Martin would you like a cup of tea?"
"Woll, I would like to get away from tea and focus on the milk and sugar issue instead…"

The Quango Queen
After twenty one years of Marys in the Áras, if you were a betting man or woman you'd be putting your house on Mary Davis but unfortunately the electorate is in the mood for change – mainly because said house is worth nothing anyway.
Davis is well able to pull a few strings
Although Mary has been trumpeted as the brain behind the Special Olympics it turns out her brain was on a whole load of lucrative government related boards giving her the title Quango Queen.

She also sat on the board of a building society that was banging out 100% mortgages like manky chips outside Semple on a championship Sunday.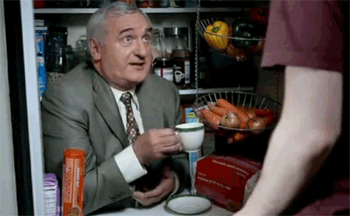 J'want a condom with dah?

An Fear Beag
He's answered most of the tough ones but the real question is whether diminutive Clare-born Galway man Michael D Higgins is too small to be president. If there's a minimum height requirement for members of the armed forces is it unfair that their commander-in-chief may not be able to see over the command post himself and that he can't be seen by people who have had laser eye surgery.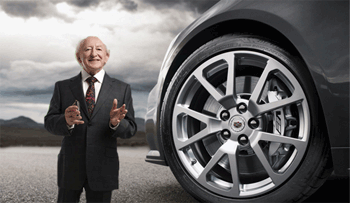 Michael D making an important little point

Furthermore, when he meets and greets international rugby and soccer players on a windy pitch will he have to wear a weight around his neck in case he gets blown away?
He can speak Irish but the worry is that he can't speak street. When some shambob with a barely comprehensible Limerick twang is being presented with "an award boss" for not burning down any more schools, will MC Mickey D be able to communicate with him meaningfully or will he burst into incomprehensible streams of poetry praising Ireland's youth resulting in contorted faces and more fires in academia?

International Woman of Mystery
Since Dana's publicity stunt in the English Market where she held up a PROC t-shirt for the television cameras, we can confirm that the Peoples Republic of Cork has now employed a number of plain clothes security men in brightly coloured trackas to patrol the area in case another candidate tries to mortify us.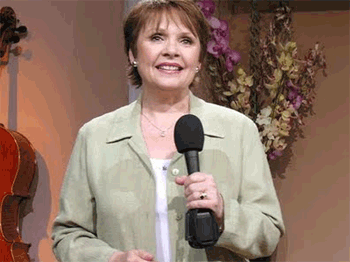 Needs a good ride
With no connections to Cork bar a train to Kent Station, the American citizen was hoping we'd all suddenly throw her at least a number two for a carefully crafted photo-op with the blood and bandage. That yanky opportunism won't work on us.

Her weird prepared statement on the debate on RTE that sparked an hilarious internet phenomenon in 'guessing' what the unspoken allegation might be her campaign highlight. Thank you Dana!
Posted on Nov 27th, 2018
With much of the area due to become part of the city in the next few years, Glanmire has confirmed it was just trying to impress the rest of the northside with the "mass brawl" that took place in Riverstown last Saturday morning.
Posted on Nov 20th, 2018
A video taken in Bishopstown of a UFO has been dismissed with a seemingly rational explanation about the sun and the international space station. Fuck that though...
Posted on Nov 13th, 2018
Are you spending most of your day online posting vague, anecdotal evidence to back up your assertion that the Panaban is either the best or worst thing ever? Read on, bubbila.
Posted on Nov 5th, 2018
Last weekend a Dublin newspaper published an entire supplement called "10 Big Ideas to Make Dublin Better". Unfortunately our thoughtful and well considered suggestions were omitted due to the newspaper's anti-Cork bias. Here they are...
Posted on Nov 1st, 2018
Encouraged by his single figure showing in the Presidential election, Seán Gallagher vows to return from the sea and fight the 2025 Presidential election…