Glanmire Brawlers Just Trying to Impress Rest of Northside
With much of the area due to become part of the city in the next few years, Glanmire has confirmed it was just trying to impress the rest of the northside with the "mass brawl" that took place in Riverstown last Saturday morning.

The incident hit headlines after footage appeared online showing more than ten young men shouting loudly and running around outside a pub in the village clearly trying to imitate behaviour they have seen on the, city based, Young Offenders TV programme.

The grainy mobile phone video, which begins some minutes after the incident began, shows an individual allegedly attacking a group with a hammer, only to be pursued and assaulted himself before escaping.

The footage then jumps to a car leaving the scene in a manner a well-trained Garda might describe as "suspicious".


Despite nobody, according to Gardaí, requiring medical assistance, shocked locals and community representatives did not hesitate to fill the airwaves on Monday morning with the overwhelming feeling that the world may be about to end and that Riverstown is on the cusp of being the next Homs.

Nervous Glanmironians, identifiable by a particularly nasal accent that mixes the sharp consonants of the Mayfield "wack" and the drawn out privileged vowels of the Glounthaune set, have long feared being merged into the city.

Many families are said to have left the area in a so-called migrant caravan which is due at the Glounthaune border crossing in the coming days. Progress is slow as many of the migrants have been distracted from their journey by the pubs and popular party-houses along the route.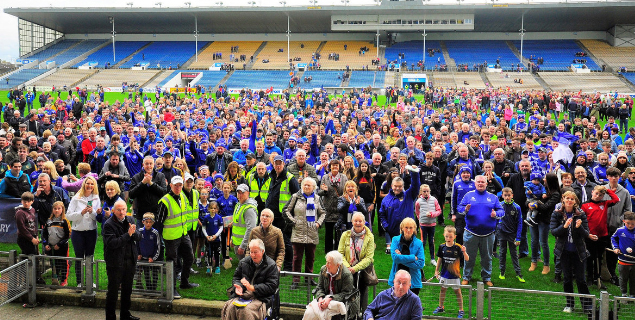 Fleeing Riverstown: Glanmire citizens at a refugee centre.
Migrants describe the conditions there as "unreal" and "mighty craic".

Residents on the other side of the crossing, in what is known locally as Top Tax Bracket Land said they do not want people from Glanmire bringing down the tone of the area and have tried to lure those who have made it part of the way up the hill back down with bags of chips and betting slips.
The calls on social media for drastic action in the Glanmire area were even more profound than those on radio: Garda helicopters fitted with lasers should be permanently stationed at Mayfield, platoons of soldiers and tanks to patrol the area and the minimum alcohol age for Glanmire men be raised to "tired, over-mortgaged men in their mid-forties with too many children" who wouldn't have the energy to stay awake until 1.30am not to mind start a fight.

It is widely believed that by filming a mass brawl and publishing it online, Glanmire and Riverstown were simply trying to impress the rest of the D'Northside of which it will become part within the next three years.

However, a spokesman for The Northside Riot Standards Committee, based in Upper Montenotte, has said that the footage could not be classified as a brawl as three basic criteria had not been fulfilled:

Firstly, no medical attention was needed by anyone at the scene so this could only be classed as "a group hug" according to the group's standards.

Secondly, the brawl does not appear to feature any hysterical "wan" with mascara streaming down her face, slashing all the men around her with a hairbrush and screaming that she's pregnant. And thirdly there isn't anyone wearing a Celtic jersey roaring "CALM DOWN BIYS, WE'RE ALL IURRISSHHHH" visible.

"Sure, listen to the audio, you can't even hear one bottle or pint glass being smashed," said the spokesman, "are you sure this isn't the local amateur drama group rehearsing for a Christmas play?"

City Hall will take over responsibility for the Glanmire area from County Hall as part of an agreed expansion of the city that has proved extremely divisive and required ministerial intervention on several occasions after city and councillors held illegal bare-knuckle fist fights in the city's docklands to decide the final position of the city boundary.

Edgy Glanmire residents, who have resisted the merger and wish to remain in the county, have said they will refuse to get tattoos and throw all their rubbish into their front gardens when they become part of the city.

Many have also said they will refuse to allow their attics to become cannabis grow-houses if told to do so by City Hall. Four fifths of the city's economy is said to be based on either hash or hashtags.







Posted on May 28th, 2019
Fianna Fáil's leader remained silent during the mayoral plebiscite campaign and believes that many citizens weren't aware of the vote because politicians didn't get behind it...
Posted on May 27th, 2019
Limerick might have taken the mayoral soup in the Dublin government's highly suspicious plebiscite but Corkonians are holding out for a far bigger prize...
Posted on May 18th, 2019
In part deux we look at ways we can all help make Cork's Huguenot Quarter become a little more French by changing our accents, taking up chain smoking and having multiple affairs with beours we don't even like...
Posted on May 11th, 2019
With our insatiable appetite for tourists, maybe it is now time to ramp it up and go all-singing-all-dancing frogs legs, onion necklaces and stinky cheese...
Posted on May 4th, 2019
Even though we are a notch above the rest, Cork people aren't all the same – perfection doesn't mean we are homogeneous.Travel around the city and county and you'll find some quirky traits that make each of the jewels in Cork's crown unique