Gallery Update - Victor Barry
Gallery Update
Victor Barry
In between sorting out attacks on the number three bus and playing cupid for Cork's singletons, Red FM talk show host Victor Barry has been busy photographing his favourite county with, we should add, great aplomb.
This is one of the most varied sets we've received to date, with landscape, sunset and nature shots all packed in there - guaranteed to produce notable reactions in the underpants of any Cork enthusiast.

To see the full set from Victor Barry click here

Check out Vic's blog here:
www.redfm.ie/corktalksback
www.victorbarry.blogspot.com


Posted on Mar 19th, 2009
Corkonians of all shapes, colours and creeds nearly melted in the sweltering 13 degree heat...
Posted on Oct 6th, 2008
Comrade Aaron Scott has been busy capturing last week's final visit of the QE2 to Cobh among other great shots....
Posted on Jun 12th, 2008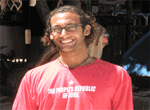 Jon Heller from New York hasn't even been to Cork yet but he's so excited about it he's already got the shirt..
Posted on Feb 11th, 2008
Images from last Sunday's march in support of the Cork hurlers and footballers...
Posted on Nov 26th, 2007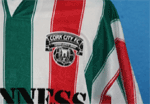 A comprehensive lamp at every home, away and special city jersey produced since the club's conception..