Gallery Update - Cork Photos


Gallery Update April 2007
Beara Peninsula
Fin Harrington spent last weekend wandering around the Beara Peninsula marvelling at it's wondrous beauty in the unseasonably sunny weather. The most westerly leg of the People's Republic is divided unevenly in favour of us Rebels over the Kerrymen and contains some of the most under exploited and spectacular scenery in the world.
From the isolation of Bere Island and cosy beaches of Allihies, to the soaring heights of Hungry Hill at Adrigole there's no need to leave the PROC for your summer hols this year.
For most city dwellers, Beara seems like too far a drive for a day out but using the Dunmanway/Bantry approach Castletownbere is now just over two hours drive from Cork City with a plethora of cheap hostels, B&Bs and houses to let, if you feel like going on the ran tan.
Here's a sample of some of our favourites from the new gallery.
Click here to see the full set.


If you'd like to add your Cork photos to our gallery email us at .(JavaScript must be enabled to view this email address)

Posted on Mar 19th, 2009
Corkonians of all shapes, colours and creeds nearly melted in the sweltering 13 degree heat...
Posted on Oct 6th, 2008
Comrade Aaron Scott has been busy capturing last week's final visit of the QE2 to Cobh among other great shots....
Posted on Jun 12th, 2008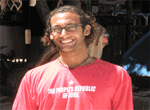 Jon Heller from New York hasn't even been to Cork yet but he's so excited about it he's already got the shirt..
Posted on Feb 11th, 2008
Images from last Sunday's march in support of the Cork hurlers and footballers...
Posted on Nov 26th, 2007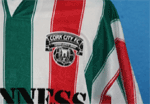 A comprehensive lamp at every home, away and special city jersey produced since the club's conception..