Gallery: Paddys Day Parade 2009
Paddys Day Sunshine
Finbarr Barry
Long gone are the giant trucks puffing diesel fumes and hoards of 96FM landrovers with a few balloons stuck to them blaring out music through the pointiest PA systems available to man.
The de-commercialisation of the Cork Paddy's Day parade has had an undoubted positive effect on the parade - the more cynical among businesses saw past parades first and foremost as an easy branding opportunity instead of giving something creative back to the people who form their customer base (with an undoubted chance to get their brand out there as a convenient side effect).


| | |
| --- | --- |
| | |
| Huge serpent yoke leads the way | Bangladesh, boy. |
Tens of thousands of Corkonians lined the streets in the unexpectedly warm spring sunshine as the hour long parade made its way from South Mall into Grand Parade and up Pana. The viewing stand for councillors, sponsors and VIP types was plonked outside Bishop Lucey Park on Grand Parade with Red FM DJ Dave Mac doing a fine job as MC.


| | |
| --- | --- |
| | |
| Cork's South Africans shrieking with excitement | Fota's tribal beats among the best |
The International Year of the Astronomy sparked the theme of this year's parade 'Cosmic Chaos' and newly baptised Corkonian Dan Tani, former Nasa astronaut led the parade as Grand Marshal. The American receives an honorary Peoples Republic of Cork passport as he is now married to a Cork woman and his energy and enthusiasm in shaking as many hands as possible raised a few eyebrows from stationary Corkonians who were already palpitating in the sweltering 13 degrees heat.



| | |
| --- | --- |
| | |
| Bodhrán Buachaillí from the Mardyke | Filipinos ready for action |
The irony of the parade's theme was not lost on the Legion of Mary float which won an unofficial PROC prize for the most depressing entry. Many kept their heads bowed just in case an astronomical telescope would swing by and reveal that Holy God was not actually sitting on a chair 5,000 ft above Grand Parade. We're sure he's up there somewhere though lads.


| | |
| --- | --- |
| | |
| Members of the Irish army who occupy Cork. | |
The diversity of Cork's ethnic make up was highly visible as entries from Angolo, Congo, South Africa, Tonga, The Philippines, France, Lithuania and Hungary as well as two entries from Bangladesh and Poland.


| | |
| --- | --- |
| | |
| "Mam is it ok if I shout one miiiiillion rupees like in Slumdog millionaire?" | The ethnic Mars group vying for space with other Cork minorities. |
Strangely, Irish culture itself was in short supply save for one of the PROC's favourites: The Bodhrán Buachaillí from St. Joseph's primary school on the Mardyke. Led by their teacher John Drew, the thirty strong bodhrán wielding troupe hammered out well drilled call-and-response rhythms in their impressive costumes. More of this next year please!


| | |
| --- | --- |
| | |
| Virgin Mary and tricolours being pushed through the streets by people who look like they could do with a few drinks | Giant robot excites the smallies |
Goldiefish and City Council must also be complimented for organising the food market on the new boardwalk at the end of Grand Parade. Thousands descended on unsuspecting stall owners as the parade ended as Corkonians queued for sushi, curries, noodles and other foreign stuff that isn't gravy-drenched dehydrated carvery.
Who would have thought it!
| | |
| --- | --- |
| | |
| Free tea! Manna for those a little overcome by all the strange foreign foods! | Grand parade mobbed by curious Corkonians |
Posted on Oct 6th, 2008
Comrade Aaron Scott has been busy capturing last week's final visit of the QE2 to Cobh among other great shots....
Posted on Jun 12th, 2008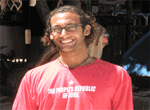 Jon Heller from New York hasn't even been to Cork yet but he's so excited about it he's already got the shirt..
Posted on Feb 11th, 2008
Images from last Sunday's march in support of the Cork hurlers and footballers...
Posted on Nov 26th, 2007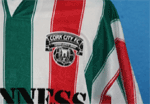 A comprehensive lamp at every home, away and special city jersey produced since the club's conception..
Posted on Nov 26th, 2007
Shane O'Gorman brings us his top action shots from the coast of the Peoples Republic...