Free Pints! When It Rains It Pours
Murphy's are trying to make this damp squib of a summer a little bit more bearable by offering you a free pint of Murphy's when it rains in Cork between now and the end of September.

Simply download the APP which is available for iPhone and Android, and when the lads in Met Eireann say it's been raining anywhere in Cork, you can claim one of 1000 FREE pints of Murphy's on offer for every day it rains this August and September.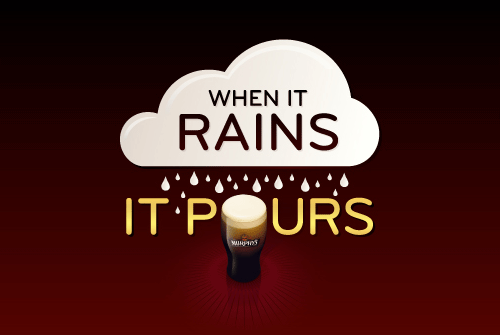 Rain? Nice wan!

So download now on iTunes App Store or Google Play ('search for 'Murphys When It Rains'), check for updates, and enjoy a free pint of Murphy's on us in you participating local!
Can you recognise this Cork beach?
Murphy's 'The Official Pint of Us' Enjoy MURPHY'S Sensibly
Posted on May 22nd, 2013
Are our famous sons and daughters holding on to their Cork accents or are they losing the run of themselves? Time to get out the cop-on-ometer...
Posted on May 22nd, 2013
You can't just tog out in beach shorts and cheap runners if you want to run in the affluent climes of Blackrock...
Posted on May 10th, 2013
As Bus Éireann drivers contemplate strike action here are another five common characters you wish you didn't see regularly on Cork city buses...
Posted on May 2nd, 2013
With such low fares these days, buses to Cork are getting packed out and the chances of you having to sit next to some langball gets higher. Here's our top 5...
Posted on May 1st, 2013
Murphy's are bringing Seasick Steve and a load of heads to Cork for a big hooley in the old Beamish & Crawford Brewery on the June Weekend May 31st-June 2nd...