Extreme Weather Watch: Ireland Being Blasted by FIERCE Category 5 Mildness
The island of Ireland has been experiencing, what meteorological experts are calling a once-in-a-lifetime "category 5" event that has lasted almost a week.

Just over a week ago bitter north easterly gales joined forces with Siberian icy downpours and sleet that combined to lash the country into a soggy grey depression bucket.

Corkonians trudged around in their heaviest coats, pulled their collars up around their chins and doubled socked the shit out of it as they braved the freezing conditions that "you wouldn't put your mother-in-law out in", according to Paddy Baker from Blarney Street.

However, the dominant northerly winter air flows have been BLASTED by a wave of tropical high pressure, said to have originated in the Caribbean, which has been mincing its way north west across the Atlantic pond towards Cork over the last week.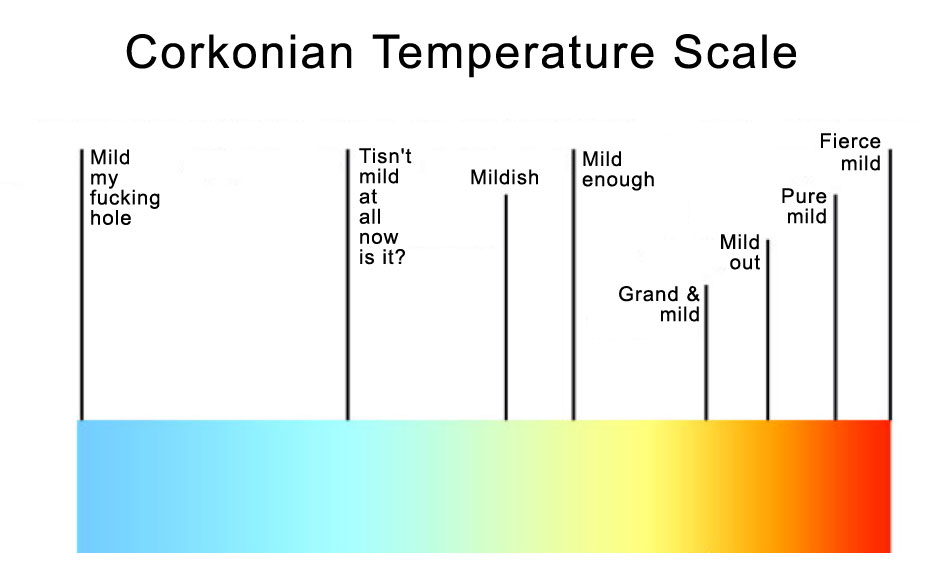 The Cork temperature scale is schedued to replace the use of both Fahrenheit and Celsius by 2025

Suddenly flipping the sub-zero temperatures to near-summer highs the severely mild conditions have been described by stunned locals as "fierce" who have been trying to come to terms with the unexpectedly pleasant weather in mid-February.

"It's not even March yet and I'm in a light jacket", said weather watcher Cathy Burke from Wilton, "imagine what it will be like when we reach peak mildness. There'll be people going around in just jumpers."

While other nations may experience extreme temperatures due to global warming Ireland is more likely to break the records for extreme mildness with the maximum mildness ever recorded in 2005 set to be smashed by the current fierce mild spell.

TECH BIT
Technically speaking, temperature is the universal scientific unit used to measure heat – normally expressed in Celsius, Fahrenheit or Kelvin. 'Mildness', on the other hand, is more a measurement of 'meteorological sentiment' - Irish people's feeling on the current weather.

This scale is not burdened by the rigid restrictions of "numbers" and "units" and other scientific mumbo jumbo but instead communicated with language – specifically using Hiberno-English – that is often verbose but yet non-committal and suggestive at the same time.

Over the past few days Cork has firmly placed the current spell into the "fierce mild" category as Leesiders enthusiastically swap stories about the extremes they have experienced over the past week.

The huge amount of clothes drying being done is only one part of the fallout from this bout of weather with thousands of Corkonians exchanging barely believable anecdotes about how they had to take off their coats when they went out for a walk or how they passed a feen who was wearing a t-shirt who wasn't even that fat. And it's only February, like.

PROC can reveal that these unreal conditions has triggered an urgent meeting of the Cork Extreme Weather Emergency Task Force who will discuss many of the consequences of the severe mildness.

The committee has appealed for at least half a billion euro for Cork city alone to address the devastating effects of this shocking and unforeseen mildness.

Leaked reports from the task force, seen by PROC, suggest football and hurling pitches around the county that would be expected to be still very hard at this time of year are "pure softening up" and as a result teams setting up to expect fast ball into their forwards are having to rethink their tactics which is causing mayhem at GAA clubs around the Rebel county.

More shocking than that revelation however is that daffodils and cherry blossoms which usually don't flower until at least March are flowering already which may result in petals slamming on to pathways around the city thus providing a useful tool to those known to be 'light on their feet' seeking handy compo payments from soft judges.

Concerned readers that live abroad can help alleviate the suffering by donating the price of a cold pint to those affected through a special website set up to collect emergency funding.

Some committee members are said to have been pushing to hold Cork's St. Patrick's Day parades next week instead just to take advantage of the mildness but they have been shot down by council officials.

At a time of such extremes it is important to avoid panic. Let's stay calm, Cork. Because we can get through this…..together.


Posted on Nov 27th, 2018
With much of the area due to become part of the city in the next few years, Glanmire has confirmed it was just trying to impress the rest of the northside with the "mass brawl" that took place in Riverstown last Saturday morning.
Posted on Nov 20th, 2018
A video taken in Bishopstown of a UFO has been dismissed with a seemingly rational explanation about the sun and the international space station. Fuck that though...
Posted on Nov 13th, 2018
Are you spending most of your day online posting vague, anecdotal evidence to back up your assertion that the Panaban is either the best or worst thing ever? Read on, bubbila.
Posted on Nov 5th, 2018
Last weekend a Dublin newspaper published an entire supplement called "10 Big Ideas to Make Dublin Better". Unfortunately our thoughtful and well considered suggestions were omitted due to the newspaper's anti-Cork bias. Here they are...
Posted on Nov 1st, 2018
Encouraged by his single figure showing in the Presidential election, Seán Gallagher vows to return from the sea and fight the 2025 Presidential election…