Eurovision's Jumbo Breakfast Roll

Eurovision's Jumbo Breakfast Roll
Danny Elbow
With the amount of outrage surrounding Ireland's bottom of the pile result at the Eurovision last weekend you'd think we were English football fans trying to find somebody to blame for our humiliation when the reality is that the problems run far deeper.
Hysterical journalists and high brow radio presenters poured scorn on poor Dervish and their diddly-eye number 'You Can't Stop the Spring'. In comparison to some of the rubbish that has been sent out to Eurovision over the last twenty years (stand up and take a bow Mickey Harte) Dervish should hardly be the scapegoat for the finishing total of five points.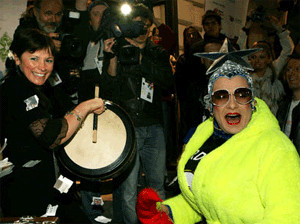 The joke's on who? Cathy from Dervish with the Ukranian entrant who came second
Publicity seeking journo's like to hop on the back of a failure and roar "told you so" even though they didn't actually make any forthright prophesies at all. Queues of apparently sage musos, safe in the hindsight of Monday morning, were lined up on radio chat shows to explain where Dervish and song writer John Waters went wrong.
HOWLER
To be fair, even though it was known well before the competition that Cathy Jordan had a particular vocal "style", which according to former Eurovision songwriter Shay Healy, occasionally "drifts above and below the note" she was still sent out to Helsinki by RTE who hand picked the band to represent Ireland. Few complained - except a few opportunistic rants from daytime DJs who believe it's cool not to like Eurovision yet then inflict some bubble gum pop thrash on their listeners a few seconds later.
Eurovision should be taken for what it is: a stage show. A bit of fun and an opportunity to play drinking games while watching beautiful European women struggle with the English language. Criticism shouldn't be thrown at those managing the Irish entry for sending a reasonably successful and respected traditional Irish band out to represent the country.
Unfortunately the big trad gamble didn't pay off, either due to nerves or lack of self awareness the Roscommon woman's voice wavered cringingly as she sustained the last vowel in both the third and fourth lines of the song: "and from Lisadell to Latviaaaaaa..aaghh" and "we're singing as one claaaan".


LYRICS
Another red herring is the Irish song's lyrics. Their chorus (as if you wanted to be reminded) went "They might scare the blackbird, But they cannot stop him sing, They may steal the honey, But they'll never steal the sting".
While it might not be everyone's cup of tea compare it with the Ukranian entry which saw a star trek clad transvestite comedian roaring numbers "one, two, three, four" in various languages followed by a few lah-la-la-lah's. They came second!
But John Water's lyrics and Cathy Jordan's bum notes are red herrings in the bigger picture. Dervish play pubs and trad festivals in rural Ireland not giant stadiums with psychedelic light shows and pyrotechnics in Scandinavia.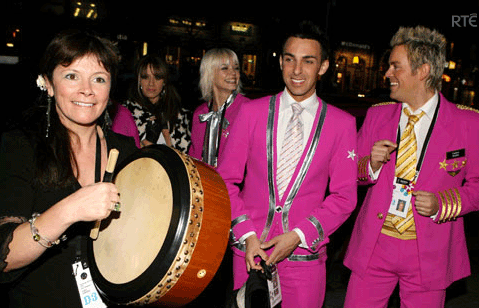 "Aw look mate the Oirish are taking the piss too"
AN CULT⁄R
Sending a trad group to the Eurovision would be like sending Donal "g Cusack and the Cork hurlers out to the Cricket World Cup. They might put certain elements of our culture and tradition on show but they're not going to win - although based on Cusack's seven points against Douglas last weekend (despite being Cloyne's goalkeeper) you'd have to wonder where his talents actually stop!
Ireland's answer to the Hoff: Logan gives it one more blast in Helsinki before the show.
So Eurovision organisers are going to have to ask themselves a question. Are they going to remain resolute and send a traditional act or a singer-songwriter to "accurately reflect Ireland as a nation" or will they follow Europe, like the Brits, into a Las Vegas version of the John Player "Tops of the Town"?

BLOCK VOTING
For some reason people were surprised that Ireland received no support from the countries where most of our immigrants come from - many accusing the poorer countries of voting for their neighbours. Tripe.
Perhaps their diddly-eye dancing-at-the-crossroads image of Ireland, that won us votes in previous years, has been blighted by the exploitation of so many of their workers by cute hoor operators here. Or maybe the fact that half their cities are now owned by Irish SUV drivers, they have taken a turn against the apparent bottomless wealth of western countries like Ireland and decided to support their neighbours and old foes instead.
BALL HOPPING
As an island of wise cracks, piss takers, ball-hoppers and comedians why don't we simply embrace the opportunity to do the dog on it in front of 100 million viewers. It's what we do best especially here in Cork.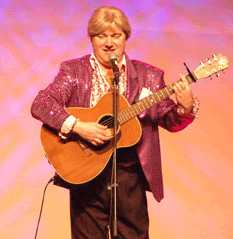 Shortt odds: Jumbo breakfast roll
The British entry "sung" by a team of dancers dressed in pilot and hostess outfits prancing around the stage was hilarious. Their "would anyone like some peanuts?" causing half of English speaking Europe to cough up their beer in laughter.
The Irish public sent so many texts in support of the Brits that we ended up giving them seven points - a real indication of how Irish Eurovision "fans" feel about the competition.

BORD FALTER
For some reason, unlike our neighbours across the water, Ireland is taking Eurovision way too seriously. Everything we do abroad doesn't have to have Bord Failte looking over our shoulders insisting that anything presented to foreigners contrary to green field "brand Ireland" would be detrimental to tourism and the economy.
With the Frank and Walters and U2 to its name (in that order), surely Ireland doesn't need to desperately attempt to exert it's musical superiority by trying to tailor a cheesy song especially for the Eurovision only to be tossed aside hours after the competition never to be heard of again.

Let global album sales continue to be the marker of how our music industry is measured and let the Jumbo Breakfast Roll and the Langer Song (both previous number ones!) or even My Lovely Horse look after Eurovision - at least they made us laugh. If we don't the joke will well and truly be on us.

Posted on Feb 19th, 2009
Plans A, B and C are long spent so as Fianna F·'
Posted on Jan 7th, 2009
Losers, users, winners and chancers: who and what will make headlines on Leeside this year...
Posted on Dec 16th, 2008
A dispute between Santy and his elves, over-priced magic dust and cheap Eastern European elf labour: the man in red and white has it all to do...
Posted on Jun 21st, 2008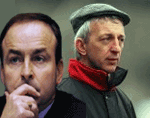 How is leaving James Masters out of the Cork football team a lot like the Lisbon vote? We get one more chance to get it right..
Posted on Feb 20th, 2008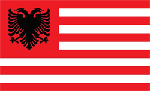 Sealing your borders from your oppressors to the north sounds good to us...