End Of Season Review
CCFC - End of Season ReviewGareth Williams
Extraordinary is just one word which has been used to describe the fortunes of Cork City FC this month. It was a season, which last June, many were expecting a relegation fight, due to our late season form last time around. The fans were almost unamimously against the manager, and felt that miracles were needed in order to get back to European competition. A few signings were made, most notably Georgie from Port Vale and the return of Billy Woods and Gareth Cronin from Shams. Unknown quantities in the form of David Warren, John Andrews and John O Flynn were also drafted in as well as Alan Reynolds from Longford, a player no one expected to make the first team.
But, if everyone was expecting a relegation dogfight at 7.45 on July 7th, the were expecting league glory come 9.30. City simply hammered defending champions, Shels 3-0 with a brace from instant hero Flynn, and one from Georgie. It was this homeform which was to prove to be the cornerstone of Citys season. The away jinx was never quite taken control of, and our seasons plight seemed to have been settled in Inchichore in Sept Vs Pats were we lost 4-1. A result which seemed to haunt City for the remainder of the season, as they went on to gain a measly 6 points from 39 on offer. That's not acceptable by anyones standards. This statistic is made all the more unbelievable when you consider City only dropped a mere 6 points from 39 in the Cross.
As already mentioned, this season just passed was certainly not normal. We saw some unbelievable bad team line ups, some terrible substitutions, some amazing team performances, a John O Flynn goal of the season. We saw Liam Murphy stick with Declan Daly through thick and thin (mostly thin, I'm sure most City fans will agree), we saw him banish early season skipper Gareth Cronin to obscurity, we saw him banish Jimmy Mulligan altogether, and we also saw him sign the highly impressive Daniel Murray.
We had highs and lows, most notably the 3-2 victory against Shams and the 0-1 defeat to UCD respectively. There was the trouncing of Shels and there was the semi fianl defeat to Derry. It was certainly an exciting season.
And the excitement was certainly not confined to the pitch. Off it, change was a happening with new chairman, Brian Lennox stamping his authority on the club. Finally it seems we have a chairman with more of a vision than simply playing golf. He implemented a more professional set up on the pitch, he helped bring families back, with the brilliant family enclosure. No longer need parents worry about their kids hearing foul and abusive language. He and Gunther turned up to the Star sponsoer eL fan forum (one cant help but think that had Liam done something like this earlier in his tenure that the fans would have been far more understanding of him). He also announced last week tha he is searching for a full time pro manager, while Murphy moves across to a role of technical director.
So what to expect next season? Well if current rumours are to be listened to Alan Reynolds has signed for Shamrock Rovers (surely if this has happened he will be the most hated ever ex City player), John O Flynn is on his way back to Peterborough.....on loan! Danny Murray is trying to sever his contract with the Posh and sign a full time deal for City, the rumour that Mick Devine is going to Bohs, and of course there is also the small matter as to who the new manager will be! Also behind the scenes, Lennox is hoping to appoint a General Manager to start running the club as the highly profitable business it has the ability to be.
My hopes are that Damian Richardson comes as manager, that we lose no players, and sign maybe Pat Scully and Jason Byrne. Also, if we can improve on our away form, there is absolutely no reason in the world why we will not be challenging for the title come October.
*The new season kicks off on the weekend of April 13th.GW
Posted on Jul 28th, 2009
If CCFC lose their appeal on Friday the club will be forced to close for good and be removed from the League of Ireland..
Posted on Aug 19th, 2008
Cork City FC is on the brink of collapse as it applies for Examinership at the High Court. If Kevin Doyle goes from Reading to Villa there's hope....
Posted on May 16th, 2007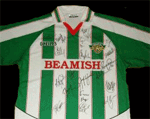 A bunch of loyal and dedicated Cork City FC fans are raising sponosrship funds with an online auction of a signed jersey. Get your hands on it now...
Posted on Feb 6th, 2003

The ever popular CCFC fanzine FourFiveOne present their awards for the end of season....
Posted on Jan 28th, 2003
A disappointing end to Cork City's season came with a dull encounter on Sunday, losing a 13 match unbeaten record at The Cross to UCD...