Craic Me Up Competition 2007
Craic Me Up 2007
Tony O'Connor

The Craichouse launches a nationwide search for the next big comedy star. An established comedy club with an ever-evolving lineup, The Craichouse has been going strong for two years with hilarious nights of stand-up and high jinx on Saturday nights at Eddies Bar (formally LV Bar) in the heart of Cork City on Mac Curtain Street.
Since opening its doors in September 2004 The Craichouse Comedy Club has become Corkís premier comedy venue for new and up-and-coming comedians. We've helped launch the careers of local comedy icons such as Eleanor Tiernan (Naked Camera), Kevin Goldsmith (Des Bishops ìjoy in ëda hoodî), Mags Lehane, Ross Brown, and even some Dubs like, Neil Hickey (Winner of the bulmers young comedian of the year 2005), Fred Cooke and more.
We continue to showcase only the finest local and national stand-up comedy. Following successful runs at the 2005 and 2006 Kilkenny Fringe Festival, The Craichouse is set to return to the festival this July with even bigger and better plans.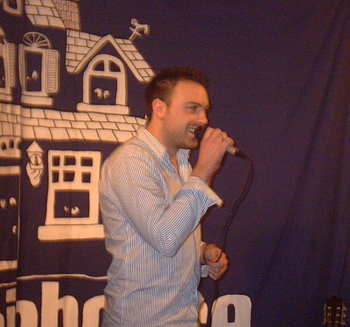 One of Cork's new comedy talents Breen Crotty on the Craichouse stage
Well this year to coincide with our 3rd trip to the Kilkenny fringe comedy festival we are launching a nationwide competition designed to discover, promote and reward new comedy talent.This competition will be called ìCraic Me Upî and is open to any comedian who has been dabbling in the black art of comedy for about 2 years.

These comedians will be judged on their skills in presentation, originality, entertainment value and delivery. The final will be held in Kilkenny during the festival and will be judged by a well known comedian.
All the heats of the competition will be held in Cork except obviously the final. These heats will be judged by 3 special guests.
There will be 6 Heats of 6 comedians and 2 heats of 7 comedians. (50 places).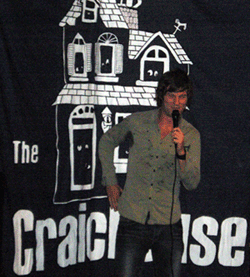 Aidan Bishop dispensing the craic
The competition will be run every Saturday night over 3 months, March, April and May, in The Craichouse comedy club. There will be 4 heats in March with 2 winners from each heat going through to the first 2 quarter finals to be held on the 5th and 12th of May. There will also be 4 heats in April with 2 winners from each heat going through to the second 2 quarter finals to be held on the 19th and 26th May.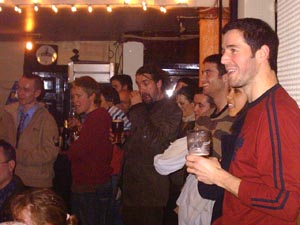 If you're planning to visit the Craichouse next Saturday get there early!
There will be 1 winner from each quarter final plus the 2 best runners-up selected to go forward to Kilkenny for the Grand final. This not only allows the 6 finalists the opportunity to win this inaugural event but it gives each of them the experience of taking part in the biggest comedy event in the country.

Closing date for this competition is the 1st of March.

E-Mail : .(JavaScript must be enabled to view this email address)
URL : www.thecraichouse.com
Contact: Tony O Connor or Pat O Shea

Posted on Aug 15th, 2007
The Naked Camera star returns to Cork Opera House on Saturday September 1st to record her first DVD...
Posted on Jan 19th, 2007
Alternative Corkonians wanted to represent the Rebel County in the All Ireland Final....
Posted on Jan 15th, 2007
Prince Niall is honoured with his own PROC soundboard....click here
Posted on Dec 14th, 2006
We've fired together some of the legendary quotes from Roy Keane in the media...
Posted on Jul 18th, 2005
When the ship goes down you better be ready - especially if its your daddy's yacht...