Corkman Enjoying Bus To Work More Than Usual
On a day when there are no buses running in Dublin George Michael O'Donovan from Go Go Park in Bishopstown has reported a huge sense of enjoyment in taking the bus to work in Cork.

A second stoppage lasting 48 hours sees no public buses in Dublin causing bedlam and chaos across The Pale as drivers attempt to win a pay hike.

Listening to RTE news on his headphones heading into work this morning on the 205, O'Donovan reported an increased sense of enjoyment as the bus cruised its way down the Wilton Road towards the city centre.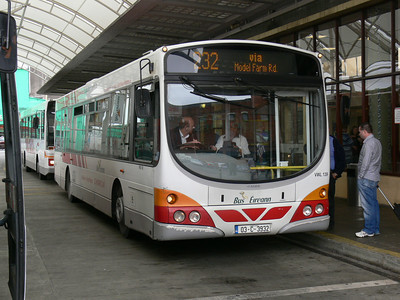 JUST DRIVE FEEN: Lots of Corkonians are taking the bus today just because they can

"My favourite bit was when we were going along the Western Road and the Mardyke", said the 28 year old meth lab worker, "there were loads of people from Dublin on the radio giving out yards on the radio about there being no buses."

High fiving the bus driver as he skipped off the bus on to the Grand Parade he noticed other passengers also smiling contently to themselves.

"I used to take bags of yokes in my twenties but this feeling beats any of that shit", he said smugly, "the whole city is on a high today. What a day to not be from Dublin. I can't wait for 5.30 to get the bus home again.".



Posted on Jun 23rd, 2017
As Cork's Peter O'Mahony lines out to captain the British and Irish Lions against the All Blacks in New Zealand a lion at Fota Island wildlife park has opened up the PROC about his relationship with the Irish number 6.
Posted on Jun 20th, 2017
From Conor Lehane's outrageous catch and point to the 'shoulder of the year' on poor Kevin Moran by Bill Cooper, Sunday's match gave us a bit more than a hurling semi...
Posted on May 30th, 2017
Soul in the City festival, Hypnotic Brass Ensemble, The Band Anna, Mitski, Elbow at the Marquee and a load more....
Posted on May 29th, 2017
And in thirty years time it is projected that the number of people from the town who have achieved a podium finish at the highest level in the sport will exceed the total number of people living in the town
Posted on May 29th, 2017
Cork's sporting hero, Irish captain and world hockey goalkeeper of the year David Harte has won the Dutch league. Hurling fans may watch this clip as long as they attend confession immediately afterwards...