Cork To Apply For 'Pure Mediterranean' Status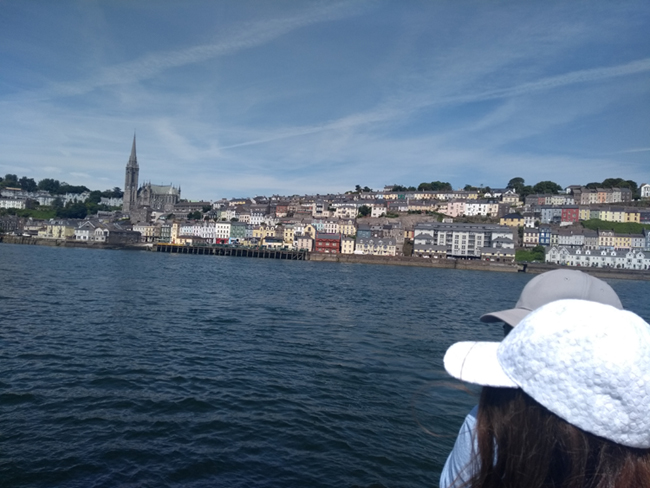 With temperatures on Leeside turned up to the max, Cork is a 'Pure Mediterranean' country at this stage so it's time we started acting like one by discarding fiscal responsibility, making your our own wine, being more philosophical, chain smoking and never daring to eat indoors again.

Here's our guide to what Cork will look like if the blistering heat continues any longer….

Siestas
Forget having a ham and cheese roll and cup of tea at your desk while you work. It's off home with you for three hours for a well-earned rest – the first hour of which consists of a meal on your apartment balcony whilst having a passionate conversation with a family member about Love Island that, from a distance, sounds like a big argument that might involve neighbours calling the recently renamed, An Policia Síochana – but it's just your emphatic Mediterranean passion.

The next two hours sees you balmed out in bed catching up on much needed sleep (or episodes of Love Island) . Don't feel guilty, bah, you've already worked over an hour and a half today and you have at least another two to go when you wake up in a bog of sweat. Pure Med.

Drive Like A Loon
If Cork is going to rub shoulders with the likes of Italy then we must immediately abandon all rules of the road and drive like crazed lunatics. The white lines down the middle of roads are to be seen as just paint and no more - they were put there by the government who are not to be trusted, just like red traffic lights.

In hot countries, motorbike helmets and indicators are embarrassing inconveniences that take too much effort - it's pure hot so don't be bothering us about your safety nonsense, bobilla.
And of course, the best place to overtake another vehicle, especially large buses and trucks, is going around a blind bend whilst sending a text your moma telling her how much you love her.
Ma-feen-osa
Cork will also have to establish its own mafiosa racket, something we'll call the "Cork business protection scheme". This is in addition to rates payable to the city and county councils…ifyouknowaddimeenbah.

PROC is delighted to be able to provide this service (oh sorry, you didn't see the tender document? Let's talk about it somewhere quiet down the marina at 2am tomorrow night – and don't tell anyone you're coming).

If you are a business owner reading this and there is a dark, handsome man on a noisy scooter outside your premises right now (smoking, obviously, no helmet, obviously) who is beckoning you outside then we would advise taking 10% of today's takings out of the register and pouring it into his leather satchel. If you don't comply then you could be, let's say, sleeping with the mullet and shopping trolleys tonight.

Smoke and Mirrors
Cork will have to vastly increase its number of social smokers to look like a proper Mediterranean country. Down south people don't smoke because they like it but because it is fashionable and rebellious - they do it because their government says not to smoke and because they think it makes them look like more of a flah.

It's important to hold your ciggy between the tips your index finger and your big finger too – never hold it like you would a pen (as if you're half hiding it from your mam) – that's a pure northern Europe scobe hold.

You can also use your cigarette to slow the pace of a conversation or argument by taking a slow drag of a fag whilst looking away wistfully into the distance to make it seem like you are thinking very deeply – far more deeply than the citizen-bots of northern Europe who are too cold and busy working to engage in philosophical thought.

Air Con Job
The national conversation about weather is going to have to change during the perma-summer. Everyone will assume it's going to be blue skies by default so there's nothing interesting to say about it. Instead the conversation will turn to air conditioning and who installed yours and how much it cost, the special offer on blow fans in Aldi at the moment and the best ways to keep your mother-in-law cool during an ice cube crisis.

Gone to the Dogs
Conventional dogs and cats are not really suited to Cork's new climate. The days of walking a mut around The Lough are numbered, it'll be too hot for them and they'd only be barking at all the snakes and lizards in the grass.
So it won't be long before we see animals more suited to Cork's climate around the place: camels tied up outside houses in Blackrock, young fellas racing their ostriches on greens up in Farranree and crocodiles lazing about under Patrick's Bridge.

And it goes without saying that when in Ballincollig Regional Park (recently turned into a vineyard) please make sure all leopards are kept on their leashes.

Posted on May 28th, 2019
Fianna Fáil's leader remained silent during the mayoral plebiscite campaign and believes that many citizens weren't aware of the vote because politicians didn't get behind it...
Posted on May 27th, 2019
Limerick might have taken the mayoral soup in the Dublin government's highly suspicious plebiscite but Corkonians are holding out for a far bigger prize...
Posted on May 18th, 2019
In part deux we look at ways we can all help make Cork's Huguenot Quarter become a little more French by changing our accents, taking up chain smoking and having multiple affairs with beours we don't even like...
Posted on May 11th, 2019
With our insatiable appetite for tourists, maybe it is now time to ramp it up and go all-singing-all-dancing frogs legs, onion necklaces and stinky cheese...
Posted on May 4th, 2019
Even though we are a notch above the rest, Cork people aren't all the same – perfection doesn't mean we are homogeneous.Travel around the city and county and you'll find some quirky traits that make each of the jewels in Cork's crown unique