Cork Take on Dubs and City V Sligo
Plenty of Fish in the 'C'
Beating the life out of our rivals was the sporting theme of last weekend as the footballers trounced Kerry in Tralee by 10 points and City trashed Shamrock Rovers 3-0 at Turners Cross.

The two C's, John Caulfield and Brian Cuthbert, are both in their first seasons as managers and their teams have got off to the best starts possible – sitting pretty on top of the Airtricity and Allianz leagues respectively. It's where Corkonians expect to be and the Corkmen's stocks are rising quickly on Leeside.

Highlights from CCFC's 3-0 whipping of Shamrock Rovers last week

It's very early days in both seasons so we're not taking our clothes off and dancing in the Grand Parade fountain just yet but the buzz around town is noticeable whether your preferred code is that of Brian C or Johnny C.

The official 'grand stretch in the evenings' has arrived and Friday night football at the Cross has drawn huge crowds of well over five thousand.

Despite some fears about a price increase at the gate this season it has become clear that fans don't see the 15 euro door tax as an obstacle when they know they're going to see quality football and players that fight for the cause. Incidentally a Sunday afternoon's entertainment at Pairc Uí Rinn costs 15 euro too.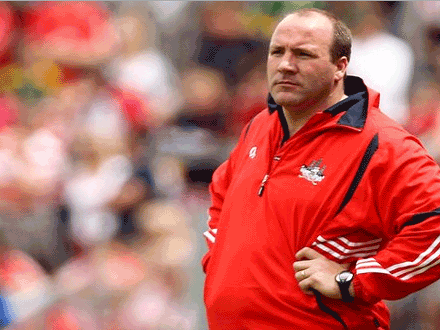 Brian Cuthbert has already steered Cork's victory over the Dubs and Kerry

City had their biggest attendance in six years on Friday night and that was despite weather conditions that you wouldn't put a Shams fan out in.

If Johnny C can maintain the fighting spirit his team has shown so far this season then the good feeling around the city will snowball. More takings at the gate means more buying power, means better players, means more wins, means bigger crowds and so on.

A club owned by fans rather than frosty foreign investors or local chancers masquerading as 'businessmen' means the club can act in the best interest of its long term future and not some short term gain or personal ego trip. That's good for Cork a whole and not just fans at the Cross.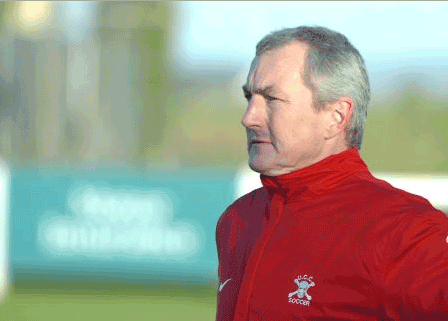 Johnny C: the buzz is back at Turners Cross

We note the rebranding of RTE's soccer highlights programme has taken on a distinctive People's Republic look too – the 'Soccer Republic' logo even has the obligatory star. Add to this the ten minute plamás of the Rebel Army by a string of Dubliners on the latest episode and it looks like the national broadcaster has positioned itself carefully for the way they think the season is going to go.

CCFC play Sligo at Turner Cross this Friday April 11th at 7.45pm and Cork footballers play Dublin in Croke Park at 4pm on Sunday April 13th

Murphy's When it Rains It Pours App will be turned on for the Cork footballers match against Dublin so grab a free pint of Cork stout if you're in Cork for the match.
Posted on Mar 13th, 2018
Make your Paddy's Day in the Rebel County one to remember for all the right and the wrong reasons...
Posted on Mar 1st, 2018
If there's bitterness coming from the east pointing the finger at Siberia and Russia isn't fair. The blame for this weather lies with Waterford...
Posted on Feb 5th, 2018
The ERSI have produced another report saying Dublin is a dump and it shouldn't hog the country's resources but nothing will change because of one hidden line in the report...
Posted on Feb 5th, 2018
How to get the most from your compo claim! Plus read our guide on the best corners to ignorantly leave bags of rubbish once your gaf becomes part of the city...
Posted on Feb 5th, 2018
How often will you be mugged when your area becomes part of the city? And will you still be able to have ten pints and drive home after dropping your kids off to school?