Cork Ladies Can Save the Rebel GAA Season
Believe it or not it's nearly three months since our hurlers exited the championship in embarrassing slow motion car crash in Thurles – to Wexford.

It's nearly two months since the footballers bowed out to Donegal in Round 4B of the All-Ireland after being relegated to Division two for 2017 and dumped out of the Munster championship to Tipperary – beaten by the Premier for the first time since 1944.

The minor and U21 hurlers failed to make any meaningful impact.

There was a chink of light with the U21 footballers winning Munster again and making it to the All-Ireland final only to be heavily defeated by Mayo. Unfortunately recent U21 success again failed to make any impact on the senior team.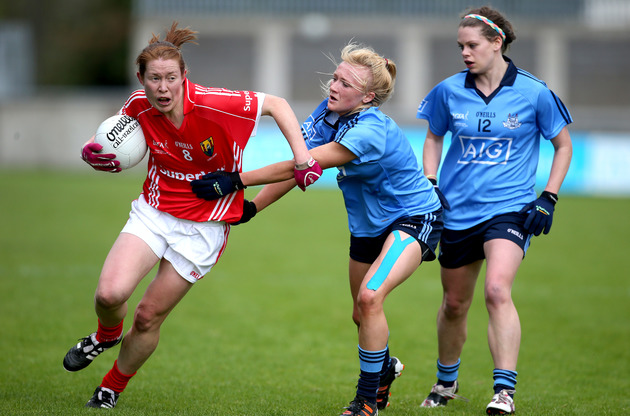 Dub killer Rena Buckley

The closest to any All-Ireland celebration any Cork male teams have got this year has been Conor Lane who refereed Sunday's football final between Dublin and Mayo. He got out of there with a draw and didn't manage to hand out any red cards to Dubs to swing the game to Mayo – another bitter disappointment for fanatical Cork GAA fans!

As usual the mantle fell to the girls and our camogie team who had the opportunity to go top of the Roll of Honour were defeated by Kilkenny in their All-Ireland final (don't worry the Cats only have 13 titles and we're on 26 so they've some way to go yet).

This Sunday the team that Cork has been relying on since 2005 to bring senior All-Ireland success goes into battle with their arch rivals Dublin in Croke Park. This is the third year in a row the Rebelettes meet the Dubs in the final but just in case you thought they might be lacking motivation to push on and crush those Pale beours one more time, think again.

The Cork girls can make history by becoming the first GAA team of all time to win six titles in a row if they can see out this match but an even more juicy carrot on a stick is to go level with Kerry as the county with the most senior titles – the same invaluable motivation that the camogie team had last year. The Kingdom haven't won a title since 1993 so the 2017 season won't be lacking motivation either – regardless of Sunday's result.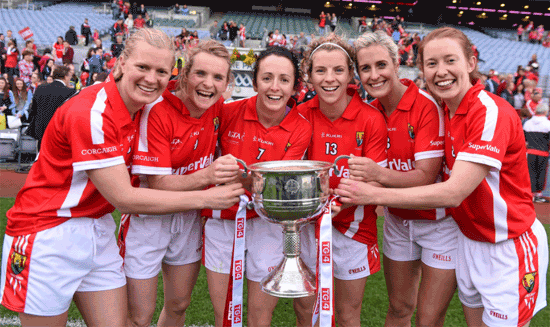 They've won it every year bar one since 2005!

Even thought this team owe us nothing we need this one badly. Since 2005 Cork have won a senior intercounty football title every year and we won the hurling in 2004 and 2005 too. The one year the girls fell short Conor Counihan guided the men to a much needed first title in twenty years. If the Dubs win on Sunday there'll be no such consolation for Cork football fans – it'll be the first year since 2003 that we haven't won an All-Ireland at senior intercounty level.

16 All-Ireland medals later Rena Buckley and Briege Corkery are still there. By the way that's 16 medals each – one for every county between the two of them. The dual stars were named joint Sportswomen of the Year last December and haven't even had their thirtieth birthday yet.

Briege was the Player of the Match in the semi-final defeat of Ulster champions Monaghan.

The pair's vast experience will be needed big time on Sunday when the game, as expected, goes down to the wire with a bruised Dublin team that will be gunning for Cork.

There are other bright shining lights too that should see Cork through - Oral Finn has been in top form this season and Ciara O'Sullivan is lethal in front of goal too. The Rebelettes have a very solid defence that suffocates opposing forwards and forces them into errors – Monahan had 14 wides in the semi-final much of which came from tough Cork defensive pressure.

One major absence on the field makes us nervous though. Stalwart Valerie Mulcahy called time on her career in April. Her free taking and threat around the opposition goal has been crucial in all of Cork's successes to date. She scored seven in last year's final and always seems to pop up with a point when Cork fall behind and need a leader up front. Dublin's defence will go into this game knowing one serious and experienced Cork threat is no longer active.

GAA fans on Leeside have been putting their faith in Briege and Rena for over a decade. The two have been pivotal in bringing glory to Leeside, particularly in football, at a time when there has been an alarming poverty of success on the men's side – something that looks like it's going to get a lot worse before it gets better if 2016 is anything to go by – but that faith in Cork's most decorated two players is still more than justified.

This Sunday though the girls can save the season - again!

C'mon the Rebelettes!

Cork V Dublin, TG4, this Sunday @ 4pm.
Posted on May 14th, 2018
With the concrete pillars and devoted crowds those not familiar with the area might confuse it with Mahon Point Shopping Centre but the all new Páirc Uí Chaoimh is more than a smell of coffee, big brands and long lines of traffic.
Posted on May 4th, 2018
Top 5 touristy things his nibs should do while he's in Cork. We've even worked out how to play 'Shape of You' on the Shandon Bells for him...
Posted on Apr 12th, 2018
The #Panaban on cars from 3.30pm to 6.30pm in the city centre is having a devastating effect on Cork's jaywalking community...
Posted on Mar 27th, 2018
At Shaky Bridge Analytica we throw more shapes than a Midleton dance school and more balls than a Southside driving range. We specialise in data analytics and metaphors...
Posted on Mar 27th, 2018
At Shaky Bridge Analytica we throw more shapes than a Midleton dance school and more balls than a Southside driving range. We specialise in data analytics and metaphors...