Cork Hurling Fan Really Regretting Booking Wedding For First Weekend in September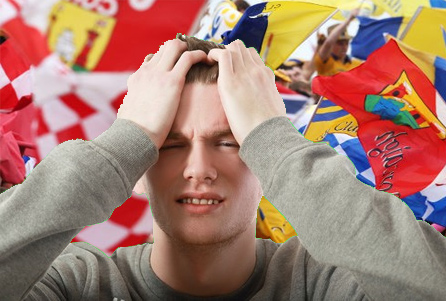 Bank of Dursey employee and winner of August 2013 employee of the month Michéal O'Driscoll, 30, confirmed that he has spent Monday morning browsing hotels in Dublin with the first weekend in September firmly in his mind instead of trying to find wedding DJs like his old doll told him to.

"I didn't think there was a hope the Cork hurlers would get anywhere near an All-Ireland final this year," he said, "so I agreed to the date herself had booked in".

After witnessing yesterdays hugely impressive defeat of the All-Ireland champions in Thurles, O'Driscoll started browsing hotel websites in Dublin on the way home on the train with the first weekend with the All-Ireland final in mind.

"Yeah it's only wan game we won like but sure j'know like, you'd like to be like lookin' now just in case like".

O'Driscoll had prioritised browsing the Burlington Hotel website where Cork teams of the past have traditionally based themselves on All-Ireland final weekends but was open to being located nearer to Croke Park stadium as well.

"You're talkin' two hundred quid a night there like", he continued, "but a sham has to load up on gat then as well like so you could be lookin' at a grand for the weekend notabodder, like. "

However on arriving home O'Driscoll presented his plans to his fianceé Marion Whingeshire, 28, a supermodel originally from somewhere in Not Cork.

"When I got home I told herself that I was going to book myself and the buddy into the Burlington Hotel for the All-Ireland final just in case and the look I got back that would have even stopped Mark Ellis in his tracks"

After being chased around the house with a hairbrush for over forty minutes O'Driscoll, who admits that he had been drinking for several hours, finally realised that he had already agreed to having the couple's wedding on that weekend.

"Some dose", was how the Aghabullogue man described the scene as he tried to persuade his sobbing girlfriend that moving the wedding into 2018.

"I told her this morning that there's nothing set it stone yet and all we'd lose is a two grand deposit on the wedding reception if the hurlers make it to the final. Sure it'd be well worth it to be at the match, like".

Marion is said to be considering her options. Just like the Tipp management team.



Posted on Mar 13th, 2018
Make your Paddy's Day in the Rebel County one to remember for all the right and the wrong reasons...
Posted on Mar 1st, 2018
If there's bitterness coming from the east pointing the finger at Siberia and Russia isn't fair. The blame for this weather lies with Waterford...
Posted on Feb 5th, 2018
The ERSI have produced another report saying Dublin is a dump and it shouldn't hog the country's resources but nothing will change because of one hidden line in the report...
Posted on Feb 5th, 2018
How to get the most from your compo claim! Plus read our guide on the best corners to ignorantly leave bags of rubbish once your gaf becomes part of the city...
Posted on Feb 5th, 2018
How often will you be mugged when your area becomes part of the city? And will you still be able to have ten pints and drive home after dropping your kids off to school?