Cork City Could Win League
The Airtricity League First Division title will be on the line as Cork City travel to Tolka Park on Saturday evening to take on Shelbourne.
Shels are in first place going into the last game of the season, with Cork City just two points behind in second place.

A draw would see Shelbourne win the title and City promoted in second place, however City boss Tommy Dunne told CorkCityFC.net that his side will be going out to win the game and the title: "We have gone out to win every game we have played this season, and we will not be changing our approach for this match.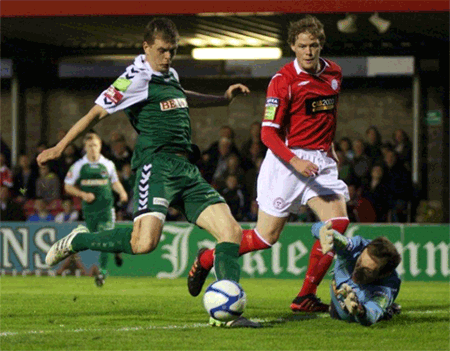 Davin O'Neill scoring against Shelbourne in City's 4-1 win in August. Pic: Blinkofaneye.ie
Shels are already promoted, but there is a league title at stake and they also have a cup final the following week. Whoever plays for them will be looking to put in a good pe

rformance, as they will be playing for a league title and also for a place in the cup final team."City welcome Danny Murphy back after a one match suspension, however there are a number of injury doubts ahead of the tie. Neal Horgan (knee) and Greg O'Halloran (Achilles) have both struggled with injuries in recent weeks, but Dunne is hopeful that they will both be available.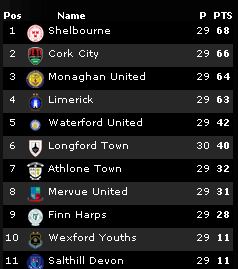 The league as it stands before Saturdays top of the table clash in Tolka Park

Gavin Kavanagh has also struggled with a back injury in recent weeks, and played through the pain barrier against Longford Town. He has had intensive treatment this week, and it is hoped that he will be available, though he is rated as very doubtful. Davin O'Neill was substituted after scoring the equaliser against Longford last week with a recurrence of a hamstring injury, and he has also had intensive treatment but remains a major doubt ahead of the game.

If you're in Dublin on Saturday why not pop along and join the Rebel Army?
Click here to show Tolka Park on google maps

Injury News: Stephen Mulcahy, Greg O'Halloran, Neal Horgan, Gavin Kavanagh, Davin O'Neill
Suspensions: None
Last Game: Cork City 3-1 Longford Town
League Form: W W D W D W W W W W


CCFC is Proudly Sponsored By

Posted on Sep 17th, 2018
An 83 year old man foiled a three-man raid in Glanmire last Saturday evening and in the process delivered a beautiful kick up the arse to one of the humiliated raiders. Who else needs a Dinny Funt?
Posted on Aug 27th, 2018
A buskers' code agreed between buskers, traders and residents is well worth pursuing before wrapping ourselves up in legal knots and slapping low-income buskers with fines...
Posted on Aug 15th, 2018
It has been rumoured for years that Bob Marley lived in Cork...and possibly still does. Only that can explain the manic devotion to the reggae superstar on Leeside...
Posted on Aug 8th, 2018
If you haven't moved abroad in protest after the last time the Panaban was tried or set yourself on fire in defiance then check out our frequently asked questions guide to Panaban's second coming.
Posted on Jul 24th, 2018
This time last year Cork were Munster champions going into the All-Ireland semi-final on a high. It didn't end well. The Rebels have added some steel that should help avoid another semi drubbing but is it enough to beat a tough Limerick outfit?