Cork City Could Win League
The Airtricity League First Division title will be on the line as Cork City travel to Tolka Park on Saturday evening to take on Shelbourne.
Shels are in first place going into the last game of the season, with Cork City just two points behind in second place.

A draw would see Shelbourne win the title and City promoted in second place, however City boss Tommy Dunne told CorkCityFC.net that his side will be going out to win the game and the title: "We have gone out to win every game we have played this season, and we will not be changing our approach for this match.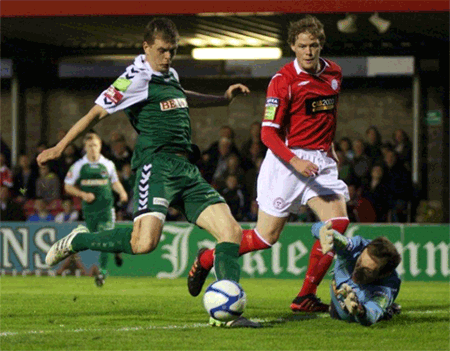 Davin O'Neill scoring against Shelbourne in City's 4-1 win in August. Pic: Blinkofaneye.ie
Shels are already promoted, but there is a league title at stake and they also have a cup final the following week. Whoever plays for them will be looking to put in a good pe

rformance, as they will be playing for a league title and also for a place in the cup final team."City welcome Danny Murphy back after a one match suspension, however there are a number of injury doubts ahead of the tie. Neal Horgan (knee) and Greg O'Halloran (Achilles) have both struggled with injuries in recent weeks, but Dunne is hopeful that they will both be available.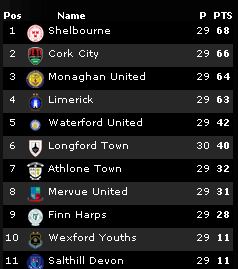 The league as it stands before Saturdays top of the table clash in Tolka Park

Gavin Kavanagh has also struggled with a back injury in recent weeks, and played through the pain barrier against Longford Town. He has had intensive treatment this week, and it is hoped that he will be available, though he is rated as very doubtful. Davin O'Neill was substituted after scoring the equaliser against Longford last week with a recurrence of a hamstring injury, and he has also had intensive treatment but remains a major doubt ahead of the game.

If you're in Dublin on Saturday why not pop along and join the Rebel Army?
Click here to show Tolka Park on google maps

Injury News: Stephen Mulcahy, Greg O'Halloran, Neal Horgan, Gavin Kavanagh, Davin O'Neill
Suspensions: None
Last Game: Cork City 3-1 Longford Town
League Form: W W D W D W W W W W


CCFC is Proudly Sponsored By

Posted on Nov 27th, 2018
With much of the area due to become part of the city in the next few years, Glanmire has confirmed it was just trying to impress the rest of the northside with the "mass brawl" that took place in Riverstown last Saturday morning.
Posted on Nov 20th, 2018
A video taken in Bishopstown of a UFO has been dismissed with a seemingly rational explanation about the sun and the international space station. Fuck that though...
Posted on Nov 13th, 2018
Are you spending most of your day online posting vague, anecdotal evidence to back up your assertion that the Panaban is either the best or worst thing ever? Read on, bubbila.
Posted on Nov 5th, 2018
Last weekend a Dublin newspaper published an entire supplement called "10 Big Ideas to Make Dublin Better". Unfortunately our thoughtful and well considered suggestions were omitted due to the newspaper's anti-Cork bias. Here they are...
Posted on Nov 1st, 2018
Encouraged by his single figure showing in the Presidential election, Seán Gallagher vows to return from the sea and fight the 2025 Presidential election…