Cork City Could Win League
The Airtricity League First Division title will be on the line as Cork City travel to Tolka Park on Saturday evening to take on Shelbourne.
Shels are in first place going into the last game of the season, with Cork City just two points behind in second place.

A draw would see Shelbourne win the title and City promoted in second place, however City boss Tommy Dunne told CorkCityFC.net that his side will be going out to win the game and the title: "We have gone out to win every game we have played this season, and we will not be changing our approach for this match.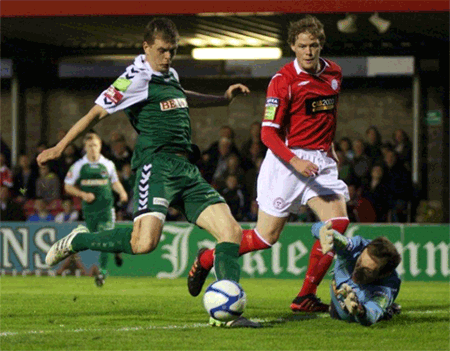 Davin O'Neill scoring against Shelbourne in City's 4-1 win in August. Pic: Blinkofaneye.ie
Shels are already promoted, but there is a league title at stake and they also have a cup final the following week. Whoever plays for them will be looking to put in a good pe

rformance, as they will be playing for a league title and also for a place in the cup final team."City welcome Danny Murphy back after a one match suspension, however there are a number of injury doubts ahead of the tie. Neal Horgan (knee) and Greg O'Halloran (Achilles) have both struggled with injuries in recent weeks, but Dunne is hopeful that they will both be available.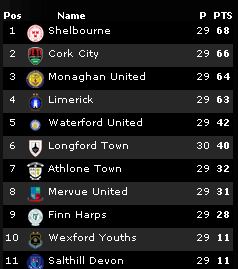 The league as it stands before Saturdays top of the table clash in Tolka Park

Gavin Kavanagh has also struggled with a back injury in recent weeks, and played through the pain barrier against Longford Town. He has had intensive treatment this week, and it is hoped that he will be available, though he is rated as very doubtful. Davin O'Neill was substituted after scoring the equaliser against Longford last week with a recurrence of a hamstring injury, and he has also had intensive treatment but remains a major doubt ahead of the game.

If you're in Dublin on Saturday why not pop along and join the Rebel Army?
Click here to show Tolka Park on google maps

Injury News: Stephen Mulcahy, Greg O'Halloran, Neal Horgan, Gavin Kavanagh, Davin O'Neill
Suspensions: None
Last Game: Cork City 3-1 Longford Town
League Form: W W D W D W W W W W


CCFC is Proudly Sponsored By

Posted on Mar 13th, 2018
Make your Paddy's Day in the Rebel County one to remember for all the right and the wrong reasons...
Posted on Mar 1st, 2018
If there's bitterness coming from the east pointing the finger at Siberia and Russia isn't fair. The blame for this weather lies with Waterford...
Posted on Feb 5th, 2018
The ERSI have produced another report saying Dublin is a dump and it shouldn't hog the country's resources but nothing will change because of one hidden line in the report...
Posted on Feb 5th, 2018
How to get the most from your compo claim! Plus read our guide on the best corners to ignorantly leave bags of rubbish once your gaf becomes part of the city...
Posted on Feb 5th, 2018
How often will you be mugged when your area becomes part of the city? And will you still be able to have ten pints and drive home after dropping your kids off to school?