Cork City Could Win League
The Airtricity League First Division title will be on the line as Cork City travel to Tolka Park on Saturday evening to take on Shelbourne.
Shels are in first place going into the last game of the season, with Cork City just two points behind in second place.

A draw would see Shelbourne win the title and City promoted in second place, however City boss Tommy Dunne told CorkCityFC.net that his side will be going out to win the game and the title: "We have gone out to win every game we have played this season, and we will not be changing our approach for this match.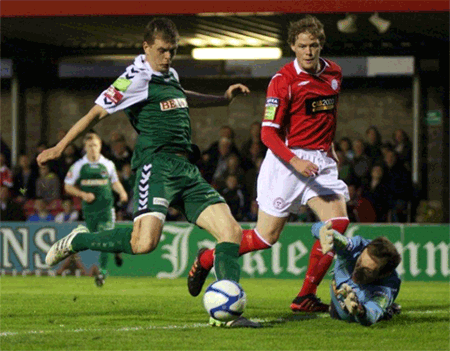 Davin O'Neill scoring against Shelbourne in City's 4-1 win in August. Pic: Blinkofaneye.ie
Shels are already promoted, but there is a league title at stake and they also have a cup final the following week. Whoever plays for them will be looking to put in a good pe

rformance, as they will be playing for a league title and also for a place in the cup final team."City welcome Danny Murphy back after a one match suspension, however there are a number of injury doubts ahead of the tie. Neal Horgan (knee) and Greg O'Halloran (Achilles) have both struggled with injuries in recent weeks, but Dunne is hopeful that they will both be available.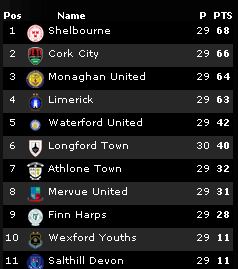 The league as it stands before Saturdays top of the table clash in Tolka Park

Gavin Kavanagh has also struggled with a back injury in recent weeks, and played through the pain barrier against Longford Town. He has had intensive treatment this week, and it is hoped that he will be available, though he is rated as very doubtful. Davin O'Neill was substituted after scoring the equaliser against Longford last week with a recurrence of a hamstring injury, and he has also had intensive treatment but remains a major doubt ahead of the game.

If you're in Dublin on Saturday why not pop along and join the Rebel Army?
Click here to show Tolka Park on google maps

Injury News: Stephen Mulcahy, Greg O'Halloran, Neal Horgan, Gavin Kavanagh, Davin O'Neill
Suspensions: None
Last Game: Cork City 3-1 Longford Town
League Form: W W D W D W W W W W


CCFC is Proudly Sponsored By

Posted on Jun 19th, 2018
We turn the slightest, most tenuous Cork connections to other countries and their players into blind loyalty so you have a reason to scream 'C'MON ON D'REBELS!' at your telly every night for the next month...
Posted on Jun 12th, 2018
Read our guide to holding up traffic, driving at terrifying speeds through villages and sleeping in your tractor....all so Chinese women can give up breastfeeding...
Posted on May 25th, 2018
With 18 All-Ireland medals and 10 All-Stars Rebel Reena Buckley has retired. Resident PROC poet John Paul Valentino has been spending soime quality time in his poetry isolation chamber...
Posted on May 14th, 2018
With the concrete pillars and devoted crowds those not familiar with the area might confuse it with Mahon Point Shopping Centre but the all new Páirc Uí Chaoimh is more than a smell of coffee, big brands and long lines of traffic.
Posted on May 4th, 2018
Top 5 touristy things his nibs should do while he's in Cork. We've even worked out how to play 'Shape of You' on the Shandon Bells for him...