Cork City 2 Shels 1
Cork City 2 Shelbourne 1
FourFiveOne

For all the talk of honest players in the press this week, two
controversial decisions helped City to a win over Shels on Friday night
that sees them leapfrog the Dubs and move back into second place in the
league table. A controversial penalty from Flynny minutes into the
second half gave City a 2-1 win, as three $h?£$ players were booked for
protesting and just before the hour mark Jim Gannon was sent of for an
incident with Georgie after the ref consulted the linesman.
Shels were comfortably on top from the start and forced a string of
corners, but it was City who took the lead when Georgie fired home at
the second attempt in the 17th minute. After scoring he made a beeline
to the dug-out to celebrate with underfire manager Liam Murphy.




But within five minutes Shels were back level through Stephen
Geoghegan, proving he still has what it takes to score goals and City
looked less than convincing throughout.
The penalty from Flynny put City back in front but, even when down to
ten men, $h?£$ continued to pose problems for the City defence and,
once again, it was backs to the wall in the closing stages.
A John O'Flynn penalty two minutes into the second half helped Cork
City to a vital victory over Shelbourne in the top-of-the-table clash,
but the Reds saw their chances evaporate when Jim Gannon was sent off
on the hour.
The central defender was dismissed for an incident with City striker
George O'Callaghan, with referee Paul McKeon showing the red card after
consulting with a linesman.
O'Callaghan had given the home side the lead in the 16th minute,
following up to net the rebound after Shels goalkeeper Steve Williams
had parried his initial shot.
Shels restored parity when Richie Baker crossed for Stephen Geoghegan
to score, but Cork went ahead within seconds of the second half's
start, John O'Flynn dusting himself down to fire a penalty kick to the
net after referee McKeon adjudged that the former Peterborough man had
been fouled by Kevin Doherty.
Doherty maintained his innocence, and several Shels players
remonstrated with the official, who booked Richie Baker for dissent.
None of it bothered O'Flynn however, who exorcised the demons of his
FAI Cup semi-final penalty miss by finding the net past Williams.
It was all over for Shels when Gannon's reckless moment ensured his
side would have to play the remaining half hour with ten men, and even
though manager Pat Fenlon could bring on sub Wes Hoolahan, recently
called up to the Irish senior squad, and Paul Beavers, a scorer on his
debut against Bray last week, Cork held on stoutly for the three
points, which lifts them back into second place, nine point behind
Bohemians, who were held to a draw at home to UCD.

Click here to download John O'Flynn's penalty (AVI format - could take a while!)

Visit FourFiveOne's website


Posted on Jul 28th, 2009
If CCFC lose their appeal on Friday the club will be forced to close for good and be removed from the League of Ireland..
Posted on Aug 19th, 2008
Cork City FC is on the brink of collapse as it applies for Examinership at the High Court. If Kevin Doyle goes from Reading to Villa there's hope....
Posted on May 16th, 2007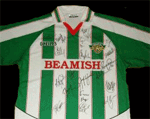 A bunch of loyal and dedicated Cork City FC fans are raising sponosrship funds with an online auction of a signed jersey. Get your hands on it now...
Posted on Feb 6th, 2003

The ever popular CCFC fanzine FourFiveOne present their awards for the end of season....
Posted on Feb 3rd, 2003
No cup this season, no europe next season and Murphy resigns. Gareth Williams sums up the first transition season at Turners Cross....