Cork 1-19 Wahfud 0-19
It has been a long time coming but finally Cork has banished the Deise blues, beating Waterford for the first time in six championship attempts in Thurles in a 1-19 to 0-19 thumping.

Not deterred by the manky antics of some of the Blah's, let's just say, lesser-civilised players the Rebels tore into an early lead thanks to a superb Jamie Coughlan goal and some fine points.

Bainisteoir Jimmy Barry-Murphy will be happy that his gamble on Stephen McDonnell at full back paid dividends with the Glen man putting in a fine performance in the number three shirt ensuring that Waterford again remained goalless.

This was a make-or-break game for JBM and his big gamble on youth but the victory would not have happened without the experience of the old guard trio: Tom Kenny formerly of the Tom & Jerry Show; the ship-steadier John Gardiner and legend Seán Óg Ó hAilpín who scored a vital and inspirational point to start the Rebel come-back in the last ten minutes.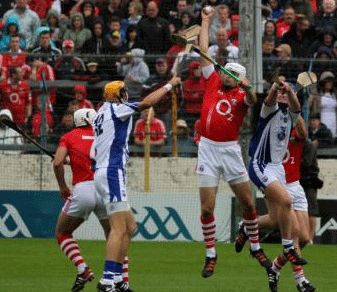 Pa Cronin in the process beating the shit out of Waterford
Cathal Naughton played his usual super-sub role chipping in with two crucial late points to put daylight between the Haves and the Have-nots sending the Town End bananas.

The on-field celebrations after the game were a joy to watch and many passionate Rebel hurling fans will sleep easy over the next few weeks knowing that Cork are back in the top four.

Galway's demolition of Kilkenny was impressive and after their big victory over Cork last year they will be hot favourites. JBM keeps reminding us we are in bonus territory but we can still dream. Cork have never feared The Tribesmen.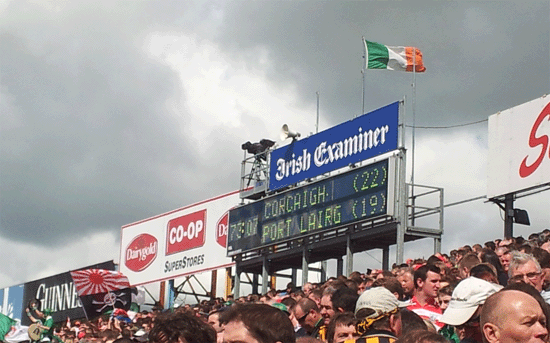 The job.
Those of you who booked The Burlington for the first Sunday in September during half time of the first league game in February might be feeling a little better about your purchase…..The Rebels will rise again!





Posted on May 22nd, 2013
Are our famous sons and daughters holding on to their Cork accents or are they losing the run of themselves? Time to get out the cop-on-ometer...
Posted on May 22nd, 2013
You can't just tog out in beach shorts and cheap runners if you want to run in the affluent climes of Blackrock...
Posted on May 20th, 2013
We keep an ear on Cillian Murphy, Kat-ill-een Lynch, John Creedon, Fianna Fail apologist Michéal Martin, Camogie Goddess Anna Geary and alleged north African immigrant Niall Prendeville...
Posted on May 10th, 2013
As Bus Éireann drivers contemplate strike action here are another five common characters you wish you didn't see regularly on Cork city buses...
Posted on May 2nd, 2013
With such low fares these days, buses to Cork are getting packed out and the chances of you having to sit next to some langball gets higher. Here's our top 5...