Beach Reviews: Coolmaine

The debate will never cease as to where it starts and ends but Coolmaine beach just south of Kilbrittain village is the first decent proper beach that is indisputably and officially in west Cork.

You will find evidence that Kilbrittain isn't as 'wescht' in its make-up as others – village kids are more likely to be seen with hurleys in hand than footballs and you won't find lists of healing-crystal spiritualists and alternative dread-locked therapists pinned to the window of the local shop like you might around Schull or Clonakilty.

Similarly the beach at Coolmaine, about a mile past the village and over the bridge, is a great blend of the best of both worlds. First and foremost the water is very clean like a typical west Cork beach despite some scares last year about E.coli when the council advised people not to swim there and in other locations closer to the city.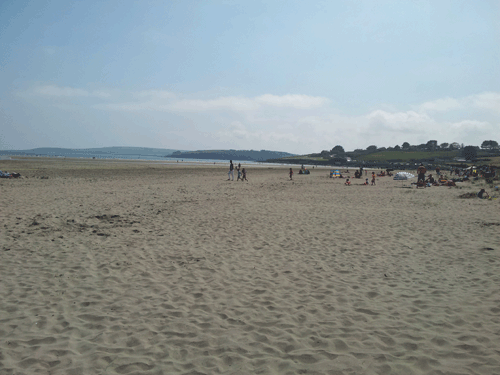 Coolmaine is only about 8km from Bandon yet entirely free of scobes, wans and shams

Thankfully though you don't have to go too far from the city to get there. Even though it is only about forty minutes from the city, Coolmaine doesn't get completely mobbed like Garretstown and Myrtleville when the sun comes out meaning the 'scobe count' and chip van presence are zero.

Picnic
Another plus for Coolmaine are the sand dunes behind the beach which separate the sandy car park area and the beach itself. When the wind is stiff lots of families set up picnics and barbeques behind the dunes where they still get the sand between their toes but without having an often nippy south-westerly gale blow-drying their heads. The tide also comes around the back of the dunes to an extent so smallies can flap about in the water without parental fears of the big bully 'Atlantic Swell' slamming into their delicate beloveds.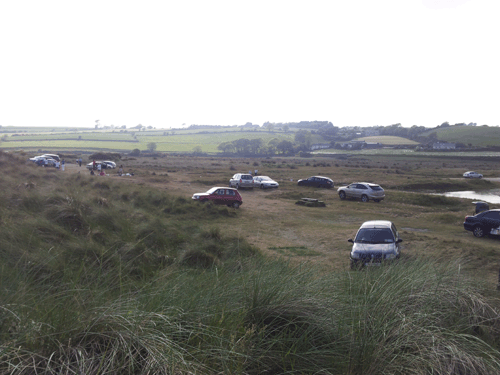 The 'car park' at the back of Coolmaine beach can be quite the post-tsunami scene with cars left in random spots all over the shop


A word of warning though: The back of the dunes are filled by a channel running up the east side of the strand that fills and empties very quickly - especially on the third and fourth hours before and after high tide (which you can check under 'Courtmac' on the People's Republic of Cork smartphone app). Kids, certainly unsupervised by an adult who is a strong swimmer, shouldn't be left near it – even little inflatable dinghys can be steaming towards New York before you know it.

Sand
The sand at Coolmaine is beautifully soft like a cosy winter blanket cuddling your feet when you walk on it. It's soft all the way to the waterline which makes it difficult to get up to full speed when you're chasing a sliotar or playing soccer. That said, keep-fit extremists would probably see it as a great opportunity to engage the calf muscles – play for longer than half an hour and you'll feel it the next day.


If you're into this kind of thing Coolmaine is your friend


Young fellas running amok on the beach in what seem like Kilkenny GAA jerseys may gnaw at your buzz on Coolmaine beach but fear not – Kilbrittain GAA wear the same black and amber vertical stripes as the Cats. No need to go to the car to get your hurley and demand a challenge.

Waterbabies
If you're into watersports then Coolmaine is your mecca. Unlike G-town though there are no operators here (Vertigo kitesurfing school that once operated out of a van here seems to have disappeared off the face of the earth) so you'll have to bring your own gear. Kite and wind surfers love the open bay, strong winds and relatively shallow water – a big bonus for learners who don't like being out of their depth.

Once in a Whale
Back in 2009 an 18 metre (60 ft) long fin whale got confused by an unusually high tide ended up beached and died at the burren between Courtmac and Kilbrittain. Instead of burying the poor sod in a big hole locals managed to convince authorities to let them put the skeleton on display in Kilbrittain which you can see as you pass through the town. Hop out and have a lamp – just don't mention the secret custody battle over the bones with Courtmac. It's not for the faint hearted so whale let that one go.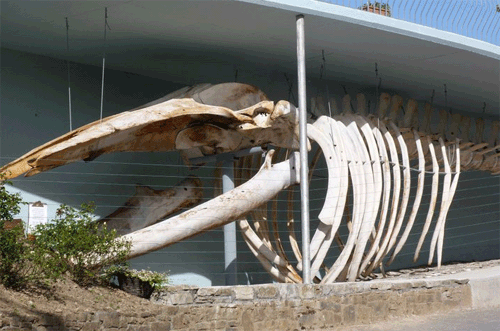 The whale bones on display in Kilbrittain:
A stark message to any whales passing by that might think of messing with the village.

PROC'S TOP TIP: Thankfully, there are no shops, ice cream vans or chippers at Coolmaine beach so the filling station in Kilbrittain is your nearest emergency fodder supplier. If you're looking for something super tasty though as you pass through Inishannon heading west a newish 'country market' called Rohu on your right at the start of the town does savage gourmet sandwiches and hefty delicious barbequed sausages served by sound and chatty heads.

Sand: 9/10
Swimming: 7/10
Parking: 7/10
Puck around space: 6/10
Scobe factor: low
Plague Flies: none
For more beach reviews click here
Posted on Mar 13th, 2018
Make your Paddy's Day in the Rebel County one to remember for all the right and the wrong reasons...
Posted on Mar 1st, 2018
If there's bitterness coming from the east pointing the finger at Siberia and Russia isn't fair. The blame for this weather lies with Waterford...
Posted on Feb 5th, 2018
The ERSI have produced another report saying Dublin is a dump and it shouldn't hog the country's resources but nothing will change because of one hidden line in the report...
Posted on Feb 5th, 2018
How to get the most from your compo claim! Plus read our guide on the best corners to ignorantly leave bags of rubbish once your gaf becomes part of the city...
Posted on Feb 5th, 2018
How often will you be mugged when your area becomes part of the city? And will you still be able to have ten pints and drive home after dropping your kids off to school?