Club Daon-Phoblacht - Irish Language Club
(English below) Club Daon-Phoblacht le SILTA
Déardaoin 5 Feabhra 2009 The Roundy, Sráid an Chaisléain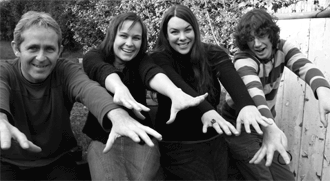 Silta
Is mian le Club Daonphoblacht bliain úr mhaith a ghuí oraibh go léir agus tá mar scéal againn go mbeidh an Club ann ar an nDéardaoin seachas ar an gCéadaoin as seo amach. Tá an-áthas orainn go mbeidh Silta againn mar cheoltóirí do mhí Feabhra. Seinneann Silta meascán de cheol gaelach agus de cheol nordach. Bhuadar Cath na mBannaí (Battle of the Trad bands) UCC sa bhliain 2007. An príomhamhránaí atá ag an mbanna ná Angun Sønnesyn Olsen ón Iorua. Tá an duine céanna ag gabháilt don Ghaolainn i gColáiste na hOllscoile fé láthair d'fhonn cur lena PhD ar amhránaíocht thraidisiúnta na hÉireann is na hIorua.

Ciallaíonn Silta 'droichead' sa bhFionlainnis. Tá beirt as Corcaigh, duine ón nGearmáin is duine ó Bhostún sa ghrúpa, leis, agus bíonn éagsúlacht an-leathan acu ó thaobh amhrán is fonn dhe maidir leis an ndá thraidisiún dá bharr.

Tá ceol fé leith ag Silta ach tá meas acu ar an dtraidisiún i gcónaí.

Is as a thagann an ceol atá acu agus tá rún acu eisint an traidisiúin a choimeád beo beathach i ndeireadh thiar.

Baineann stór ceoil is amhrán Shilta le tiúineanna gaelacha is nordacha mar aon lena gcuid cumadóireachta féin. Dá bharr sin bíonn coirmeacha Shilta lán le ceol nua, rud a bhíonn beo, spreagúil agus insroichte ag cách.
Club Daon-Phoblacht presents
SILTA
Thursday 5th February The Roundy, Castle Street, Cork
Silta play a mixture of Nordic and Irish traditional music winning the UCC Battle of the Trad Bands in 2007.
The band is fronted by vocalist Angun Sønnesyn Olsen from Norway who is currently studying Irish at UCC to compliment her PhD research into traditional Irish and Nordic singing.
Silta, the Finnish word for 'bridge', also features two Corkonians, a German and a Bostonian, giving the band a wide diversity of songs and melodies from their respective traditions.
The blend of different styles has led to the creation of their own unique sound in parallel with maintaining strong respect for the tradition from which their music comes - ultimately aiming to keep the essence of each tradition alive.
Silta's repertoire consists of traditional Irish and Nordic tunes, as well as their own ground breaking original material creating lively, exciting, accessible shows.
Club Daon-Phoblacht (Peoples' Republic) is a monthly club night that welcomes Irish language enthusiasts of all levels, age and countyhood.
Tuilleadh eolas: www.peoplesrepublicofcork.com/gaeilge Silta: www.myspace.com/siltamusic R-phost: .(JavaScript must be enabled to view this email address)
Posted on Mar 15th, 2010
Ceol, craic agus an cúpla focal. Join the Trad Lads for a Seachtain na Gaeilge knees up at the Roundy this Thursday...
Posted on Mar 8th, 2010
Stacks of places and events in Cork for you to try out the cúpla focal over March...
Posted on Feb 22nd, 2010
Make your contribution to encouraging Tesco to provide an Irish option at their self-service check-outs...
Posted on Dec 4th, 2009
Join us at the Roundy for the last Irish club of the year for craic, ceol agus comhrá..
Posted on Oct 16th, 2009
For the first time in 31 years the jazz festival will have an Irish language event on the programme. Its on this Thursday 22nd October at The Roundy...