Clonakilty to Be CompletelyPowered By Stag Parties by 2019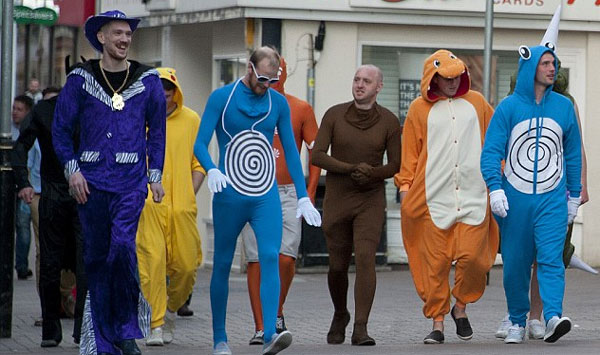 Sustainable energy supporters have got a major boost after Clonakilty revealed that it will become the first town in Ireland to be powered entirely by stag and hen parties.

The west Cork town is well known for the strength of its community as well as its ability to attract boisterous stag and hen parties so a group of innovative engineers have revealed that they have found a way to harness the power of the drunken mobs that infest the town every weekend to power local homes and businesses.

In recent years a mysterious smell known as the 'Clon Pong' pestered the town with experts being unable to track the source.

Disputes arose between locals and Cork County Council as to the source of the prolific smell which was described as the smell of a decaying pig corpse's bowel combined with the odour from the sewer of a nursing home infected by the winter vomiting bug.

Now fully eliminated, much to the relief of locals, the smell is suspected to have been the result of the unusually high amounts of "excess gas" around the town after heavily boozing stag and hen parties.

Engineers have now worked out a way of harnessing the unwanted output from visiting revellers by paying them to wear special underwear to collect expelled methane. The garments contain small cylinders which are then sent by a vehicle known as "the fart cart" to a nearby generating station that turns the powerful substance into electricity.

"With nearly one hundred thousand stags and hens in the town every year by 2019 we may be able to even sell the power to other towns", said Dr. Fiona Deane, a local engineer and part-time Shaman/poet, "and it will also help us put up with hoards of langers taking over the town every weekend".
Posted on Dec 14th, 2017
Our flawless money-back guarantee guide to convincing Cork exiles to return home for good without getting that many dawks in the head...
Posted on Dec 14th, 2017
Our flawless money-back guarantee guide to convincing Cork exiles to return home for good...
Posted on Dec 14th, 2017
High end beautifully hand crafted string art encased in a solid Irish hardwood white deep box frame. Get it delivered to any Corkonian's doorstep from Allihies to Alaska...
Posted on Nov 21st, 2017
Got a langer load of spondoolies you need to hide from that tax grabbing crowd up in Dublin but would love your friends to know about? Join PROC bank today and let us make stashing your cash easier than playing hurling against Kerrymen.
Posted on Nov 14th, 2017
There are political langballs all over the shop trying to divide nations and reverse integration and tolerance. We shouldn't take Cork's contrasting harmony for granted...