Clonakilty to Be CompletelyPowered By Stag Parties by 2019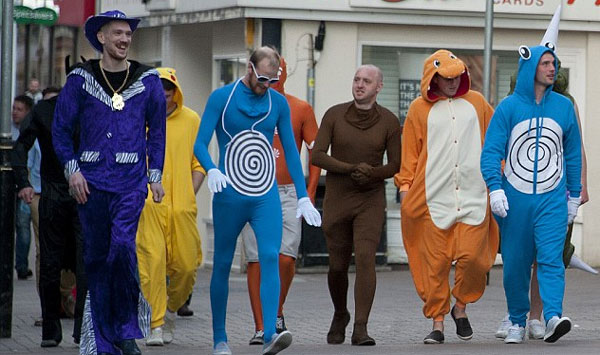 Sustainable energy supporters have got a major boost after Clonakilty revealed that it will become the first town in Ireland to be powered entirely by stag and hen parties.

The west Cork town is well known for the strength of its community as well as its ability to attract boisterous stag and hen parties so a group of innovative engineers have revealed that they have found a way to harness the power of the drunken mobs that infest the town every weekend to power local homes and businesses.

In recent years a mysterious smell known as the 'Clon Pong' pestered the town with experts being unable to track the source.

Disputes arose between locals and Cork County Council as to the source of the prolific smell which was described as the smell of a decaying pig corpse's bowel combined with the odour from the sewer of a nursing home infected by the winter vomiting bug.

Now fully eliminated, much to the relief of locals, the smell is suspected to have been the result of the unusually high amounts of "excess gas" around the town after heavily boozing stag and hen parties.

Engineers have now worked out a way of harnessing the unwanted output from visiting revellers by paying them to wear special underwear to collect expelled methane. The garments contain small cylinders which are then sent by a vehicle known as "the fart cart" to a nearby generating station that turns the powerful substance into electricity.

"With nearly one hundred thousand stags and hens in the town every year by 2019 we may be able to even sell the power to other towns", said Dr. Fiona Deane, a local engineer and part-time Shaman/poet, "and it will also help us put up with hoards of langers taking over the town every weekend".
Posted on Jul 16th, 2018
It's time to hand the event centre tender over to the Peeple'a'Cork. Just give us 100 Saturdays and we'll knock it together. Anyone have a spare trowel?
Posted on Jul 2nd, 2018
It has been very dry over the last few weeks and things are tough all over the country but did you hear about how bad the drought is up in Clare? They haven't won a Munster title now in 20 years.
Posted on Jun 29th, 2018
We have the weather so now all we need is to drive like lunatics, make siestas legal and look a lot more philosophical whilst smoking....
Posted on Jun 19th, 2018
We turn the slightest, most tenuous Cork connections to other countries and their players into blind loyalty so you have a reason to scream 'C'MON ON D'REBELS!' at your telly every night for the next month...
Posted on Jun 12th, 2018
Read our guide to holding up traffic, driving at terrifying speeds through villages and sleeping in your tractor....all so Chinese women can give up breastfeeding...