CITY EXPANSION: Culchie's Guide To Becoming a City Head - Part Tureeee
Will I have to wear different clothes now that I live in the city?
Throw out all your jeans, shirts and suits and replace them all with tracksuits. If your gaf is set to become part of the southside then Munster tracksuits are the way to go whereas on the northside Liverpool or Man United trackies are standard issue. Don't forget the ankle socks and don't dare to wear a coat even if your eyelids are freezing shut. Jackets and coats are for snowflakes, bah and you could get a batin' for being one'a dem hawks.

How will being a Northsider effect my body mass index?
Northsiders have bigger thighs than Southsiders. Scientists are undecided whether this is because Norries walk up more hills than Sorries or whether they just consume more snackboxes per head of population.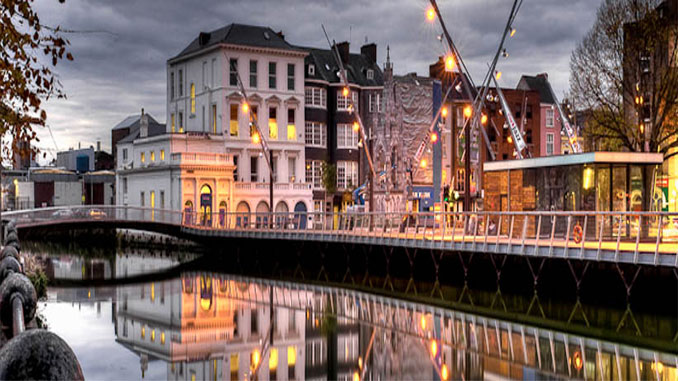 How will becoming part of the city's northside effect Blarney?
Firstly, Blarney Castle will be converted from a tourist destination to an Aldi or a Lidl and a string of shiny betting shops will open around the square. The village's restaurant and café menus will become snackbox focussed and the lovely grass square will be converted into a breakers yard where burned out cars will be stored. Teenagers in modified Opel Astras with blacked out windows that sound like North Korean rockets will be dispatched to the area to sprinkle ditches with burger wrappers and Blarney GAA club pitches will be replaced with basketball courts.

I am a violent criminal. What is the correct way to bottle somebody if my house becomes part of the southside after the boundary extension?
Whether you bottle somebody upwards or downwards doesn't depend on where you are from but on where you are at the time of bottling. Junior scobes often get this wrong. The rule is to bottle upwards if you're on the southside and downwards if you're on the northside (work with downhill gravity, bah). If you're in the city centre then you have a choice.

How I can I tell whether someone is a Northside poshie or a Southside poshie?
Some of the poshest Corkonians live in Montenotte on the northside and you can tell them apart from southside poshies from Rochestown by the way they hold their heads.

Coming from an area of high altitude those from the hills of Montenotte look downwards with furrowed brows sneering at those inferior to them while their southside counterparts keep hold their heads back with their noses in the air trying to avoid eye contact with riff-raff who have strayed into their neighbourhood from Douglas and Passage.

We have wheelie bins in the county, how will it work when we become part of the city?
Wheelie bins take up too much room in the city centre so unlike the sophisticated and sanitised waste collection system in the county, city dwellers use a range of unconventional options to vastly reduce their waste.

This includes burning it either in a bonfire that, ahem, "the kids" started in your back garden, flushing it down the toilet and then calling the Corpo to unblock your drain or leaving your rubbish in a white plastic bag on a street corner for the magic rubbish fairy to collect.

Are there any additional permits to apply for in the city?
In a few years time the current city centre will be fully under water (the Dublin government's silly plan for ugly quay walls ensures that) so travelling into the city centre will only be possible in amphibious vehicles and you will need a scuba diving license to go shopping.

Do I need to go completely over the top on Christmas lights?
Under new bye-laws Cork City Council now requires at least one house in every five inside the city boundary to be visible from Mars and Venus so selected residents must comply by covering every square inch of their house's façade, roof and garden in gaudy, flashing lights.

Are there any city lotteries worth doing that I could make a few quid on?
The biggest lottery with the biggest payouts is certainly the 'compo claim' lottery that is run in the city by a small group of solicitors and barristers.

The chances of you bagging ten or fifteen grand is very high, especially if you can do a very believable limp and sad face in front of an elderly judge. And the best thing is, unlike privately run lotteries, this one is backed by the tax payer so you can be sure of getting paid.

Posted on Sep 17th, 2018
An 83 year old man foiled a three-man raid in Glanmire last Saturday evening and in the process delivered a beautiful kick up the arse to one of the humiliated raiders. Who else needs a Dinny Funt?
Posted on Aug 27th, 2018
A buskers' code agreed between buskers, traders and residents is well worth pursuing before wrapping ourselves up in legal knots and slapping low-income buskers with fines...
Posted on Aug 15th, 2018
It has been rumoured for years that Bob Marley lived in Cork...and possibly still does. Only that can explain the manic devotion to the reggae superstar on Leeside...
Posted on Aug 8th, 2018
If you haven't moved abroad in protest after the last time the Panaban was tried or set yourself on fire in defiance then check out our frequently asked questions guide to Panaban's second coming.
Posted on Jul 24th, 2018
This time last year Cork were Munster champions going into the All-Ireland semi-final on a high. It didn't end well. The Rebels have added some steel that should help avoid another semi drubbing but is it enough to beat a tough Limerick outfit?