CITY EXPANSION: Culchie's Guide To Becoming a City Head - Part Tuoooo
The city boundary extension has many people in the county in a vice like grip of fear. Here we answer the most frequently asked questions to allay the terror of becoming part of a city…

How often will I be mugged now that I live in a city?
Every day. Corkonians get mugged on a daily basis but most take it on the chin and don't complain about it. The Dublin government are never charged with the outrageous way Cork people have their taxes taken from them and poured into infrastructure projects in Dublin. It's a living nightmare but we get on with it.

Do I have to take heroin now that I live in the city?
A number of years ago all pubs in Cork City had their beer taps replaced with communal syringes which punters use to inject themselves with various class A drugs. Payment is not required up front but a few days after a night out on the town a masked man with a hurley will call to your house looking for three times the amount of money you thought you spent on your night out.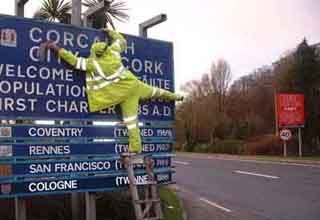 The city boundary will be moving east.

What kind of acts can I see at this famous Event Centre I've been hearing about for two decades?
This question would be better answered by the man running the show there at the moment – Simon Coveney. As well as running the event centre project he is a minister in the current government and vice-Taoiseach so he has been fairly busy with matters concerning Dublin for most of his career so expect a 2-year 3 wait for your questions to be answered or fobbed off.

Will the air quality change now that I live in a city?
Yes. As soon as the deal is done to bring your gaf inside the city boundary the air will no longer stink of cow excrement, pig entrails and Innicarra farmers' feet and will instead smell of chips, batter and warm betting slips.

What kind of wildlife exists in the city?
Around the Glasheen, College Road and Bishopstown areas there are huge herds of wild animals who migrate here from Kerry during the college year. Mostly nocturnal in nature they can be spotted in their thousands on week nights braying and howling at street lights, pucking the heads off each other and relieving themselves in doorways. Never provoke one as they'll jump on the ground screaming in pain appealing for a penalty.

Is the internet faster in the city?
One of the big advantages of living in Cork city is that you can use the internet without wanting to throw your modem or dongle out the window or burn it in a ritualistic bonfire. While in the county it can take over a month to watch a ten minute Youtube clip in the city it is common to have ten browser windows open at the same time all streaming different Netflix movies in 4K.

What's the story with drink driving in the city?
Unlike in the county where it is socially acceptable to put somebody who is in an alcohol induced vegetative state behind the wheel of a car or to let a young infant pour pints because their parents own the bar city people frown on such behaviour.

In Cork city there are things called 'taxis' that carry inebriated people from bars back to their houses – some taxi drivers will even haul you out of the cab, open your front door and lie you comfortably in the hallway for your mam to find you.

For an extra hundred quid, known as a soiling charge, you can even have your weekly vomit in the taxi which is dead handy as you won't have to clean up the hallway you wake up.

Will I still be able to drink tea?
No. These days tea is considered unethical in the city because of the proliferation of coffee shops so sell your boxes of Barry's Tea to your cousins down west quickly. If you still need a caffeine hit then you'll have to go to a local hipster café (which might be confusingly billing itself as a 'cultural exploration gallery and spiritual replenishment space') to trade stories about a cool indie gig you saw upstairs at The Roundy in exchange for a cup of coffee so potent that your heart starts to sound like a hay thresher gone mad.

What the feck is 'Yoga'?
People from the city who don't like playing sports outdoors invented this sport that looks like the hokey-cokey dance mixed with sleeping. Basically you balm out on a calving mat and twirl your legs and arms around whilst breathing loudly like a bull in heat. And you pay about 15 rag for the privilege and have to listen to a discussion about the best quinoa and polenta recipes.

How can I tell a Southsider from a Northsider?
Please see next week's column.

Click here for part tureeeee
Posted on Jan 21st, 2019
A nil-all borefest between two mid-table hoof merchants or a nail biting, do-or-die grudge match between arch-rivals vying for a top half finish?
Posted on Jan 7th, 2019
Stick in your headphones, turn off your bike lights and throw away your helmet - everyone knows you can't die if you're under 25...
Posted on Jan 1st, 2019
Just what you needed to make you feel worse about your dizzying hangover and your half-baked new year's resolutions to get fit....
Posted on Dec 30th, 2018
Our recommendations to improve the pure purity of your pure Corkness in pure 2019...
Posted on Dec 20th, 2018
From toasted specials and hot ports to big wheels and seeing the real Santy...