Sport Articles
Posted on Jul 05th, 2003

Four fantastic goals and a bit of beef as Cork City FC took Longford Town to the cleaners at The Cross on Friday night....
Posted on Jun 16th, 2003

Students stunned; Banner bombed; Colin kicks ass and a generous gesture by Cork footballers to an inferior county. What a week in sport....
Posted on Dec 06th, 2002
A new Cork recruitment agency has contacted the PRC, desperate to recruit two sets of 30 fit males for mysterious positions. We must warn you the pay isn't in line with inflation....
Posted on Dec 06th, 2002
Roll up and pledge your support for John Howard from Fermoy who is fully convinced that he is the FAI's man for the Irish manager's job. It invovles levelling Tipperary so it can't be that bad....
Posted on Oct 30th, 2002
Mickey The Bags had a dream about the FAI and Sky...
Posted on Oct 30th, 2002
"Corkman first, Irishman second" - Stevie G pays homage to boy-number-wan.

Posted on Oct 30th, 2002
Danny go-Deas takes a militantly pro-Roy stance as the "Keane saga" continues.
Posted on Oct 29th, 2002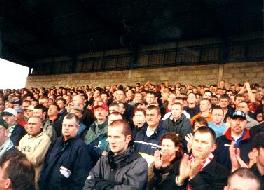 Legal teams and unregistered players seemed to get more attention this season than happenings on the field. The Beautiful Game Irish-style lurched from one crisis to the next as football took a back seat to unwelcome shenanigans off the park. Gareth Williams explains why this season's Eircom League has turned into a farce. (Plus you might see your bulb in the Shed!)
Posted on Oct 11th, 2002
Cork's Cobh Ramblers are rooted to the bottom of the Eircom League First division. They are penniless and starved of supporters. Something has to be done to save the precious Cork club that gave Irish captain Roy Keane his first break. Gareth Williams goes sniffing.
Posted on Oct 11th, 2002
It's just a faze for some but a longtime passion for others. We go and have a lamp at a new independant indoor Skatepark on Patrick's Quay.
Posted on Oct 11th, 2002
In this age of fitness obsession, PeoplesRepublicOfCork brings you a list of the city's top five golden goals for budding athletes.
Posted on Oct 11th, 2002
With so many All-Ireland titles and All-Stars to deal with here in Cork, sometimes our GAA history can become a little clouded. We help you realise how great a county we really are !!!