Cork City FC Articles
Posted on Oct 31st, 2002
Lucky to have come away from Ballybofey with a 1-1 draw City dispatched the Donegal men with ease at Turner's Cross on Tuesday night.


Posted on Oct 31st, 2002
FourFiveOne made the journey to Dublin to be greeted by coins and stone throwing scum...


Posted on Oct 31st, 2002
Well what else would you expect. There's something about three nil victories this season....
Posted on Oct 30th, 2002
The boys at FourFiveOne bring you the latest from Turner's Cross.
Posted on Oct 29th, 2002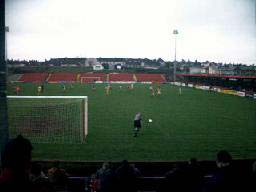 Why doesn't every Corkonian want to go and support Cork City? Is it the damp and dreary weather or the dull and miserable promotion of the club that's keeping the football-loving loyal Corkonian away from Turner's Cross? Why isn't Patsy Freyne's private life (of which we know absolutely nothing) the media-fodder it would undoubtedly be elsewhere in Europe? A self- confessed fair-weather supporter makes some suggestions on how CCFC could get more rebels in through the gate.
Posted on Oct 29th, 2002

Starved of goals, a string of shameful results in the Eircom League, Ollie Cahill's bizarre FREE transfer to Shels and having crashed out of the cup at home to First Division Limerick FC, Gareth Williams tries to make sense of the Liam Murphy brigade.
Posted on Oct 29th, 2002
As the Eircom league season wraps up with only one home game left Cork City F.C. look set to be left out of European action next season for the first time in 7 years. Some are passionate about changing things at Turners Cross claiming they want the best for the club, other might say they've cast aside their loyalty...
Posted on Oct 11th, 2002
Gareth Williams of the country's biggest selling soccer fanzine "FourFiveOne" brings us up to date on how City seem to have got it together after a disastrous start to the season.
Posted on Oct 11th, 2002
Gareth Wiliams brings you up to date with the season so far.
Posted on Oct 11th, 2002
Despite Cork City F.C being in a buoyant position in the Eircom League Gareth Williams of FourFiveOne goes sniffiing and spells out a few on-going problems at Turner's Cross.