Can Cork Save Gaelic Football?
The worst game of Gaelic football we've ever watched in our entire Leeside lives was this year's league game between Cork and Donegal. The score line immediately tells you what a drab and dull affair this was: Donegal 1-7 Cork 0-6.

A low-scoring full time result like that is usually reserved for games between gangly fourteen year olds who can't control the ball because they are visibly growing on the pitch.

You know the type of awkward teenage beanpoles that come off the pitch at full time half an inch bigger than when they kitted out – as a result their brains are unable to send the correct co-ordination signals to their limbs and all the basic skills go out the window meaning the best you can hope for as a spectator is someone completing a successful four yard hand pass.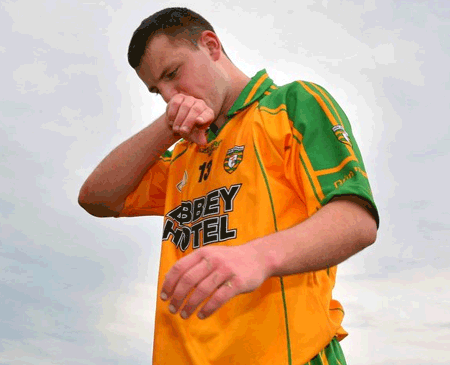 Wiping away the puke after a match
These are the games whose curt reports occasionally and almost apologetically hang around the outer fringes of Echo sports pages – those long skinny ones with dreadfully unappealing score lines like Killeagh 0-3 Cloyne 0-1 where most of the scores were umpire errors (because they were in a deep conversation with some friends about greyhounds) or possibly even made up by the coaches and referee so as not to embarrass the entire Division.

At best you skim through the text to see if there are any surnames you know before pitying the reporter who got landed with the depressing dreary spectacle – trying his or her best to squeeze a bit of excitement out of a snoozefest.
Cork scored 1-27 the last time they met Donegal in the championship in 2009
This however was nothing to do with growing pains and all the evidence shows that Donegal are undeniably involved in a lot of these awful games. While the responsibility for "blanket defence" football can be attributed to some of their near-neighbours up North, Donegal have brought this horrible negative tactic to a whole new level. If those teams in the last decade were responsible for making spectators "puke" the new Donegal style is so depressing to watch it could drive fans of proper football to self harm.

Some of their "skills" include pulling, dragging, bashing, thrashing, clawing, pawing and sawing opponents that are on the ball but the main "trick" is to position at least twelve or thirteen players in their own half making it very difficult for the opposition to play and forcing them to shoot from distance.
'I'm supposed to be the full forward line not you'
It is one of the most appalling, unsightly and frustrating tactics ever used in any sport – comparable perhaps to the stick-it-up-the-jumper tactics of rugby teams counting down the clock but in that instance at least the team doing the frustrating are in possession of the ball. We saw elements of it in Trapattoni's tactics in Euro 2012 where he seemed happy to let other teams have the ball but the unsporting sight drove fans bananas.

This Sunday Cork have a chance to save Gaelic football from the gruesome blight of blanket-defence football and the grim displays infecting one of our national sports. The three-in-a-row league winners and 2010 All-Ireland champions have been playing some beautiful football this season and their dismantling of a fancied Kildare side showed a brutal ruthlessness that has not been evident before. This combined with an All-Star bench makes Cork an extremely intimidating side stuffed with talent and toughness.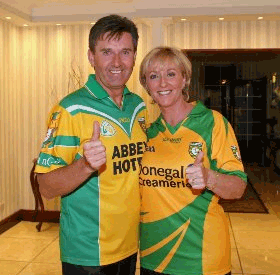 Daniel: Soft hands
It is unlikely Conor Counihan's side will be as complacent as they were in the quarter final against Mayo last year and this year's steeliness seems to have been borne from the pangs of being knocked out so early in 2011. Cork have looked like a platoon of brave plucky soldiers in recent years but this championship has shown them to be more like a division of tanks driven by merciless mad men obsessed with ultimate victory that take no prisoners. As soon as one battle has been won the Rebel army prepares for it's next onslaught.
Donegal people are a decent sort and if you can understand what they are saying it is always a bonus – politely nodding along to what sounds like a Daniel O'Donnell acapella played backwards is usually the best most of us non-Nordies can do when they talk.


Their county is proud of its Gaelic culture (aside from their complete ignorance of hurling of course) and some how their incomprehensible version of the Irish language manages to stay alive and that is to be admired. It is also a beautiful county with stunning scenery (as long as you make allowances for the bungalow blight and constant sight and sound of boy racers that infest the county) so that's why playing an ugly brand of football seems so at odds with Donegal's otherwise pleasant image.

Nobody would begrudge them a go off Sam Maguire (like us in 2010 it has been twenty years since their last bash) but while they continue to pursue these awful unsightly tactics it will be hard to have any sympathy for them when the steel tracks of the Rebel army's tanks led by General Counihan and Captain Canty roll over their hopes on Sunday.
Posted on May 10th, 2013
As Bus Éireann drivers contemplate strike action here are another five common characters you wish you didn't see regularly on Cork city buses...
Posted on May 2nd, 2013
With such low fares these days, buses to Cork are getting packed out and the chances of you having to sit next to some langball gets higher. Here's our top 5...
Posted on May 1st, 2013
Murphy's are bringing Seasick Steve and a load of heads to Cork for a big hooley in the old Beamish & Crawford Brewery on the June Weekend May 31st-June 2nd...
Posted on Apr 23rd, 2013
It's a blistering nuclear warm 18 degrees and there are feens in t-shirts on Pana. The official end of the longest winter of all time is finally here...
Posted on Apr 23rd, 2013
Out of the last ten games six have had VERY late goals by the opposition to cost the Rebel Army dearly including a draw last Friday and Monday. Woss de story?