Beach Reviews: Red Strand
Red Strand

About ten minutes south from Clonakilty and about 2 kms beyond Ardfield lies one of the Rebel counties most underrated and under-utilised beaches. Nestling between two lush green headlands, one of which contains the iconic Galley Head lighthouse, this bright clean strand has the perfect mix of soft and wet sand to keep sunbathers and the youthful sandcastle construction industry in permanent bliss.
If you're not one for the ice-cream vans, chippers and sneaky pints Red Strand is completely devoid of commercial activity and noticeably more peaceful. The only discernable structure is the beach toilet which is reasonably clean as public bogs go.

The popularity of nearby 'celebrity beaches' Owenahincha and Inchadoney keeps Red Strand very quiet so you can balm out easy in the knowledge that cider swilling scobes, screaming 'wans' with sunstroke and their tacky sooped up cars are far away.
Prospective inter-county hurlers and Sunday morning stick swingers alike will be pleasantly surprised with the amount of puck-around space available - although we recommend the open plains of Inchadoney for practicing monster frees, 65's and doing other John Gardiner impressions - but the two hours either side of high tide will force you into the short passing game which may cause discomfort to older patrons who would prefer, for various reasons, if you played the long ball.
The water is regularly wavy enough for body-boarding but not uncomfortable for a paddle at the same time. Put this seaside spot on your agenda for summer 2010.
Sand: 8/10
Swimming: 7/10
Parking: 7/10 (no official space but there's rarely more than 20 cars on the road)
Puck around space: 8/10
Scobe factor: low
Flies: none
99 Cones: Supervalu in Clon.

Top tip:Bring a windbreaker if the wind is anything but northerly. The prevailing south westerlies run right across the beach from Galley Head knocking a few degrees off the temperature which will make your old doll want to go home about an hour before you're ready to skirt on yourself.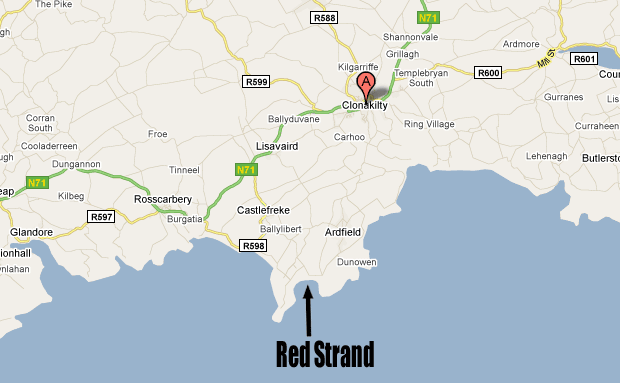 Look out for signs for Ardfield if passing through Clon.
After Ardfield all roads lead to Red Strand.
Posted on Jun 11th, 2013
Only forty minutes from the city beautiful Coolmaine beach is a safe bet if you want to avoid cider partying scobes and smelly chip vans...
Posted on Jul 14th, 2011
Tops off, fishin rods out and flagons at the ready: some anthropological observations on the scobe species when the sun comes out...
Posted on Jun 21st, 2010
Perfect for surfing, Long Strand is the quiet next door neighbour of celebrity beach Owenahincha....
Posted on May 24th, 2010
One of the county's top blue flag beaches, this spot just beyond Kinsale has it all..
Posted on Aug 30th, 2007
Small and pokey but with lots of hidden extras...