Back to School Sunshine
Murphy's Law states that if it can go wrong it will go wrong and the legislation is regularly called into use on Leeside. The weather is our long running gripe of course and as regards the match against Donegal last Sunday (we wish the Nordies the best with their 'system') a file has been sent to the Murphy's Law Department at the DPP's office.

All summer mams and dads have been spending time and money trying to come up with ways to amuse their smallies during the relentless drab weather we've got on Leeside. It's like payback for us getting away with a mild winter.

This week and next, Cork's kids, both small and large go back to school so, according to Murphy's Law, it'll probably end up a scorcher so the rest of us should be planning holidays along Cork's coast to take advantage of the metrological miracle that one assumes will accompany the groans of our youth as their parents wake them at an ungodly hour to don the grumbling grey blandness of a school uniform for another school year.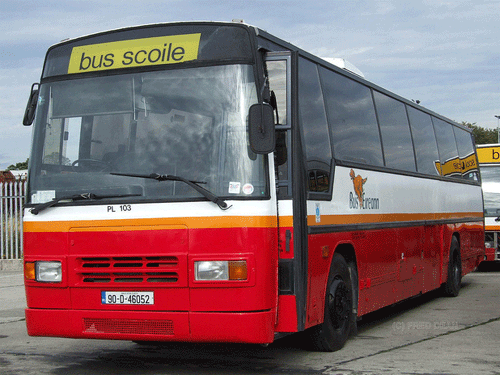 Oh they're all a packa langers down the back! DOWN THE BACK!
Initially when the lucrative contents of Barryroe oil field off the coast of the People's Republic were first announced many smallies could have been forgiven for thinking they could more or less give up on all the hard subjects with 'free' moola being handed out to the youth of Cork for life – the only need for maths being to add up all the lovely dosh handed out by the oil companies and government to the citizens of Corkonia. No more laborious long division, the annoying alphabet of algebra or the confusion of calculus. Arts and crafts and P.E. for everyone!

Sadly, the Dublin government signed away our rights to the oil money a long time ago (for more unbiased information on this subject contact your nearest angry anti-capitalist lefty via those black and white posters on lampposts around town advertising regular Socialist love-ins in tiny hotel rooms) so the maths books have to stay on the desks at least until Cork gets independence and we have a proper say on the Barryroe bounty.

Cork has long been labelled as the intelligent end of this island, coming out tops in leaving cert results, winning maths Olympiads and European Young Scientist competitions as easily as beating Wexford in the hurling. Our smallies have an important reputation to maintain when they reach their junior and leaving certs to maintain our air of superiority down here in the south.
Take Cover
Before the recession many Cork parents, appalled at the ludicrous price of school books and the accompanying conspiracy where a 'new edition' is published every year, make their children cover their books to minimise wear and tear. The trend is back.

They say never judge a book by its cover but it's the first thing they'll do in the second hand book stores in Cork when parents try to flog last year's mini-library to take the edge off this year's bill.

Try bringing an Irish reader with tattered covers and a wide range of culinary stains from an accident with a cup-a-soup into one of these shops: parents will be offered anything from fifty cents down to a pencil sharpener in lieu of a book that cost twenty quid a year ago.

Covering books is a pre-September ritual in many houses around Cork – the options range from cheap but tough brown paper (that is guaranteed to cause confusion as now your books all look the same) to posher see-through plastic that makes it less likely that you don't forget a book on a particular day and end up being handed down an unjust sentence of two-hours detention with one hour suspended for good behaviour (or, more realistically, because your GAA-mad teacher/prison guard needs to leave early to get to training).
There's a bit of a skill to book covering and it takes a few goes to get it right. Get it wrong twice and your mam gets in a tizzy with you well before you get any notes home for messing in class.

A fatal mistake, inciting all your siblings to shout 'FAIL!' at you, is to measure out the amount of covering paper you need with the book fully open - only to find that when you try to close it you haven't allowed enough slack at the spine. Dose!

Loading up the sack the night before the first day back is usually stomach churning for Cork's smallies. It's like the grown-up equivalent of moving out of home, even if it is only for a few hours each day. Moving in with your peers is great but there's nobody to turn to when your teacher is spiting fire at you for accidentally (on purpose) pouring milk on all the already struggling tiny plants on the nature table.

It won't be long now before the county's young Rebels settle back into their routine and the rest of us, hopefully, should be laid out on Cork's E.coli-free beaches!
Posted on May 22nd, 2013
Are our famous sons and daughters holding on to their Cork accents or are they losing the run of themselves? Time to get out the cop-on-ometer...
Posted on May 22nd, 2013
You can't just tog out in beach shorts and cheap runners if you want to run in the affluent climes of Blackrock...
Posted on May 20th, 2013
We keep an ear on Cillian Murphy, Kat-ill-een Lynch, John Creedon, Fianna Fail apologist Michéal Martin, Camogie Goddess Anna Geary and alleged north African immigrant Niall Prendeville...
Posted on May 10th, 2013
As Bus Éireann drivers contemplate strike action here are another five common characters you wish you didn't see regularly on Cork city buses...
Posted on May 2nd, 2013
With such low fares these days, buses to Cork are getting packed out and the chances of you having to sit next to some langball gets higher. Here's our top 5...