Art Up In Mayfield
PeoplesRepublicOfCork.com
Art Collections
†
"Sex is Good"†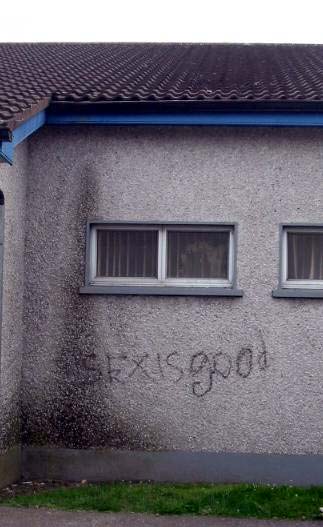 ††††††† Mayfield is known for it's up-front and abrasive characters that act on impulse. Roy Keane and Shabba Ranks both two fine examples of the suburbs sons telling it like it is. Artwork in the area follows a similar telling-it-like-it-is trend as we can see from the deft handywork on Mayfield Community Health Care Centre (on the left as you drive from the Old Youghal road coming from town). Obviously overcome by the deep sensual pleasures of the sex act (no doubt performed within a close range of the artwork itself) the artist has presented us with a strikingly clear picture of his (or her) feelings. For an artist to evoke such thoughts and eroticism ten or twenty years ago would have been a national scandal and we certainly wouldn't have published the work either (which would have probably been on weekly Maxell blank tapes for Commodore 64 for sale in Easons) . One is delighted to say, we love the way this piece tracks Cork society's journey into the 21st century.
"Fuck The Law"†

†


†††† Well back to basics here again. The most evocative thought that springs to mind when one stands back and looks at this piece for the first time is the use of capitals everywhere except the letter 't'. Who knows what this means? Artists leave strange signs for us to interpret all over their work. Interestingly the green sign above was also singled out for some avant-garde aerosol and wrist work reminisent of the work of Yoko Ono in the early eighties. A renaissance in the pipline we hear you ask ?
"Pigs Are Shitty"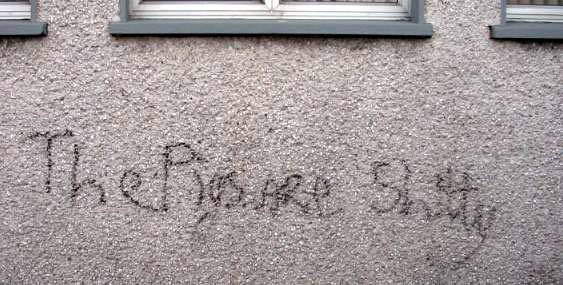 †
†††††† One may assume on first glance that a simple spray and leggit approach was taken here. It is a deep piece. Note how the artist has reverted back to a combination of lower case and upper case lettering to avoid being recognised as the artist responsible for the two pieces above. You are lucky that the PRC has a trained eye but we want to respect the artist's wishes, many of whom remain aloof from society unwilling to bask in glory. They are only known in their own underground communities.

Posted on Jun 22nd, 2011
The defacing of Cork city can be narrowed down to a small group of easily traceable individuals. If the authorities wanted to find them they could just look online...
Posted on Oct 31st, 2002
One of Cork's most undesirable resting places within marker scrawling distance of UCC houses some interesting art. De experts took a lamp...


Posted on Oct 31st, 2002
The sham standing in front of you in the queue in Hillbillys last Saturday night might be the next Van Gough