An Exotic Taste of Cork
MURPHY'S LITTLE BIG NIGHTS OUT
presents
An Exotic Taste of Cork
Tom Barry's, Barrack Street
Friday May 28th from 6pm to 9pm
To apply for tickets log on to www.littlebignightsout.com or call 01 522 4800
It's the summer - there's no denying it! And whether the sun is splitting the rocks or not, MURPHY'S are determined to bring the sounds and flavours of far flung shores to the good citizens of Cork! MURPHY'S Little Big Nights Out presents An Exotic Taste of Cork in Tom Barry's, Barrack Street on Friday May 28th from 6pm to 9pm.
To kick off the summer season of MURPHY'S Little Big Nights Out, the official pint of us will celebrate the wonderful cultural diversity of Cork, bringing together a multitude of exotic sounds and flavours for an evening of sensational ethnic food and music. See which of your foodie mates can handle the heat of a truly authentic Indian curry or which of your chili aficionado friends really knows their jalapenos from their habaneros! And of course, nothing can beat a cool, creamy pint of MURPHY'S to calm the most adventurous of palates!
The Gourmet Offensive will be celebrating the exotic flavours of the Middle East with their festival favourites - Falafel Pitta with hummus and tahina and tabouleh with falafel, all dripping with chili and herby dressing. MURPHY'S Little Big Nights Out have challenged Green Saffron to test the bravest of taste buds with their range of mouth (and eye) watering Indian curries. Bad Boy Sauces will be providing sunshine strewn plates of Caribbean fare - succulent Jamaican Jerk Chicken and their famous Jamaican Rice and Peas. Many more delights and delicacies will be offered on the night for your tasting pleasure!
Celebrate the start of the summer in Cork's most iconic pub, chilling to the global beats of cult DJ Doctor Fiasco, who will be spinning funk, jungle, gypsy, reggae and soul. Don't hesitate in nabbing your complimentary tickets - get online at www.littlebignightsout.com and register now!

The MURPHY'S Little Big Nights Out events are the perfect opportunity to hang with your mates, enjoy some pretty excellent nosh and discover (or re-discover!) the pure joy of a pint of MURPHY'S!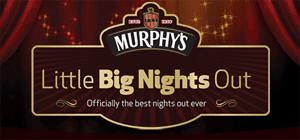 MURPHY'S Little Big Nights Out - officially the best nights out ever!
Brought to you by MURPHY'S – the official pint of us!
Enjoys MURPHY'S responsibly – visit www.drinkaware.ie
Posted on Jul 18th, 2011
The beer gardens of Tom Barry's and Fionnbarras host the official Murphy's LBNO bbq of summer 2011. Space is at a premum so click here to find out how to get tickets...
Posted on Nov 9th, 2010
Ash, Slow Motion Heroes, The Undertones, Number One album artist Cathy Davey, Fight Likes Apes, James Vincent McMorrow and Fred...
Posted on Nov 3rd, 2010
Win a pair of tickets to the juggernaut of excitement hitting Cork at the Arc Arena from Novembr 19th-21st
Posted on Jun 10th, 2010
See the play that won the biggest award at the 2009 Edinburgh Festival. For free at the Everyman!
Posted on Nov 17th, 2009
Can the arts in Cork survive what the Dublin banking mob have done to Ireland?