Alternative Miss Cork 2007
The Alternative Miss Cork 2007
Once a year the Alternative Miss Cork show rolls into town, bringing a fantastic collection of contestants, for the whole of Cork to behold at a fun packed evening of hilarious entertainment. The winner of the pagent will represent Cork at the annual Alternative Miss Ireland in Dublins Olympia Theatre in March.

The events are a fun means of raising funds for charities who help the many HIV positive people in Ireland and last year Africa.

This years event is happening in the Savoy Theatre on Patrick st, on Sunday the 4th of February 2007 - Doors open at 8pm and Tickets are Ä15 in advance from the Bodega Bar, Cornmarket St.
If you haven't been to an alternative Miss Cork Show let us explainÖ
Contestants must be special and their allure must be of a rarer sort. Our judges are looking for a very specific set of characteristics to award the Alternative Miss Cork crown. The characteristic we value is difference, our queen must be a well rounded alternative entertaing character. Previous winners have been - Fabula de Beaumarchet (A Drag Queen) The Nigerian Rose (an Irish born girl with a Nigerian father), Virgin Atlantica (A female actress/comedian and Lucy Furr (A South African drag queen)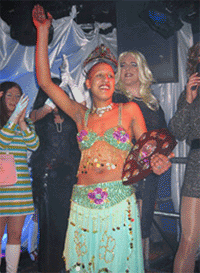 The Nigerian Rose


Each contestant must have a well concepted character, the character must shine through and win over the Judges and the crowd in three sections - swimwear, where they parade in swimwear and get a chance to chat with host Panti, daywear and evening wear, where the contestant gets to perform their Party piece, which can be anything so long as its entertaining. Contestants choose their own music for each of the sections and must it must reflect and enhance their character.
The event is judged by a panel of experienced and renound judges - This year we have Franc- the wedding specialist, Frank Twomey (Giftgrub) Jeanette Cronin (You're A Star). During the interval we have performances from past winners and other local talents. Giving the Alternative Miss Cork team time to sell programs and raffle tickets for a selection of prizes kindly donated by local businesses.
The Alternative Miss Cork team all work for free and all profits from the event are donated to aids charities, in the past we have given donations to the Cork Aids Alliance - The Rotary 'Give back a smile' helping children with aids in Africa. The southern Aids project. All very worthy charities doing fantastic work to help prevent the spread and help people with Aids manage and deal with their illness.
So Come on down and join the party, help a great cause, it's a show not to be missed I assure you!!!
See you there!!!
Alternative Miss Cork Team
Eddie K. - 0863372062
Andrea Kennedy - 0878055581

Click here for more info and entry forms
Posted on Aug 15th, 2007
The Naked Camera star returns to Cork Opera House on Saturday September 1st to record her first DVD...
Posted on Jan 23rd, 2007
Fancy yourself as a big name comedian with a top spot at the Kilkenny Fringe Comedy Festival? The Craichouse want you...
Posted on Jan 15th, 2007
Prince Niall is honoured with his own PROC soundboard....click here
Posted on Dec 14th, 2006
We've fired together some of the legendary quotes from Roy Keane in the media...
Posted on Jul 18th, 2005
When the ship goes down you better be ready - especially if its your daddy's yacht...