10 Reasons We Loved Cork's Townlands Festival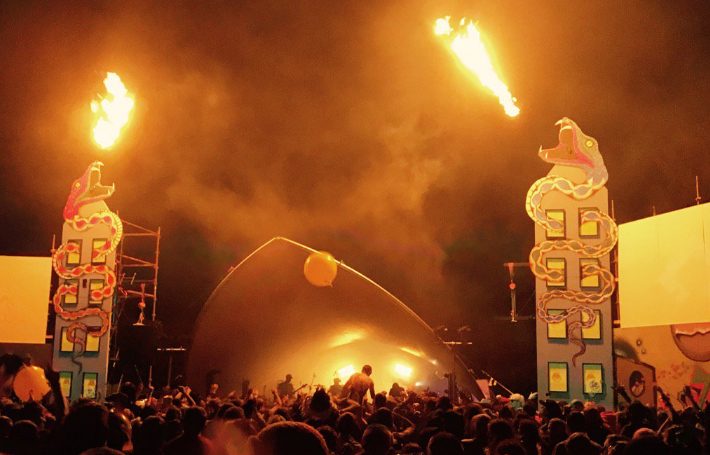 Townlands has emerged as a replacement for Skibbereen's South X Southwest Festival that went bang five years ago. That operation failed soon after they invited a Dublin promoter to get involved but the new festival just north of Macroom, now in its third year, has proved that a family friendly, locally owned and reasonably priced pure daycint music festival is possible.

Here are the top ten reason we loved last weekend's big hooley..

Every Little Helps
Two quid for tae. A fiver for a beer. Two fifty for a big ice cream cone and less than a tenner for a delicious 10 inch pizza cooked in a wood fired oven. Even headliners King Kong Company commented on the non-commercial buzz from the main stage that night as day tickets were only fifty euro. At no point did punters feel like they were there to be taken advantage of even though the nearest chipper is about a ten day hike away in Macroom!

No Hassle
One of the off putting things about festivals like Electric Picnic and other major summer shin digs is that after dark things get really messy - not just the falling around hysterically drunk eegits but the roving gangs of pumped-up-on-something-white-and-looking-for-a-fight langballs. The law presence at Townlands was the most minimal we've seen at any festival – mainly two female Gardaí chin wagging near the Subatomic stage (and in fairness there's a lot of banter to be had about their bosses at the moment).

The well behaved Cork crowd is why so many locals felt safe bringing their kids along too. Was it significant that there wasn't a GAA jersey to be seen anywhere?
Toilet Queues
They were shorter than this sentence.

Living In The Moment
Usually a wall of phones blocks your view of anything remotely interesting at a festival but Townlanders here seemed to use their own internal RAM to remember their Townlands experience. Nowadays they call it mindfulness but it's really just a bit of good old fashioned cop on.

A Dose of Deise
Sunday was a good day for the Deise on Leeside. We might have spanked their hurlers out the gate of Thurles last month but they gave Wexford a decent trimming in Stade de Frank on Sunday afternoon. Maurice Shanahan seemed like Waterford's main act on the day despite Waterford's uninteresting brand of hurling but Deise dance act King Kong Company got far more Cork people jumping that night as they ripped it up on the main stage – big blaa accents on them and all.

Lee Valley Love In
There are no revenue pumping Wild Atlantic Way or Ancient East trails in this part of the world but it's as beautiful as any part of the Rebel county. This is Cork in its rawest form – minimum investment, no tourist trails, raw beauty. If anything it was a good reason to force Corkonians from who don't know the area up into the north west of the county.
Mol an Óige
Townlands bills itself as family friendly and lots of curious locals came along. We bumped into a gang of high energy twelve year old locals on Sunday morning and after declaring their enthusiasm for sport over music we asked them to shout out the answer to this question: "Lads, would ye be more into hurling or football now?" and the instant unanimous reply of "FOOTBALL!!" sent a little shiver up our spines.

Townlands seemed a million miles away from the heart break at the Gaelic Ground exits on Saturday night after Cork narrowly lost to Mayo but one thing's for sure – there's no shortage of young big ball specialists in the Rebel County. The ash trees in this part of Cork stay where they are.

More Acts Than You Could Shake a Hurley At
Townlands was overflowing with artists– so much so that many punters only discovered smaller stages (like the one directly behind the Sibín stage) towards the very end of the festival with some acts playing to audiences smaller than themselves and singer-songwriter types also had to live with pounding bass lines invading their sets from nearby stages.

That said, the mix of local, national and international acts was just right for a festival of this size and we were delighted to see up and coming Cork acts like Shookrah taking the main stage by storm.

Whatever You're Having Yourself
Two girls snogging the face off each other at the back of the main arena at King Kong Company. Two young fellas canoodling in the late evening sun up near the 'Goat Shed' stage. Random straight men wearing dresses (which might be the start of some new hipster scene – we're not sure yet). And whatever you're having yourself. In a beautiful field. In rural Cork. It's official - we've moved on. We love it.

Second Kelpings
Well away from the thumping bass lines the eco village had a tent with fascinating information about the threats of industrial scale seaweed harvesting in Bantry Bay to the native underwater kelp forest. And did you know that cattle feed mixed with seaweed significantly reduces bovine C02 emissions?

There's credit due to Townlands organisers for keeping us on our toes about risks Cork's natural resources.


Posted on Jul 16th, 2018
It's time to hand the event centre tender over to the Peeple'a'Cork. Just give us 100 Saturdays and we'll knock it together. Anyone have a spare trowel?
Posted on Jul 2nd, 2018
It has been very dry over the last few weeks and things are tough all over the country but did you hear about how bad the drought is up in Clare? They haven't won a Munster title now in 20 years.
Posted on Jun 29th, 2018
We have the weather so now all we need is to drive like lunatics, make siestas legal and look a lot more philosophical whilst smoking....
Posted on Jun 19th, 2018
We turn the slightest, most tenuous Cork connections to other countries and their players into blind loyalty so you have a reason to scream 'C'MON ON D'REBELS!' at your telly every night for the next month...
Posted on Jun 12th, 2018
Read our guide to holding up traffic, driving at terrifying speeds through villages and sleeping in your tractor....all so Chinese women can give up breastfeeding...