10 Reasons We Love The Young Offenders
It's The Best Irish Comedy in Years
Even someone from Not Cork would have to admit that the series sits head and shoulders above other similar Irish productions of recent years. Anyone that has started to watch an episode of the death-by-television series 'Bridget and Eamon' starring shouty 2FM breakfast show hosts Jennifer Zamparelli and Bernard O'Shea knows what we're talking about.

And while the enjoyable Derry Girls series is funny – it is Shamrock Rovers to Young Offenders' Cork City FC – champions of Ireland.

Cork Looks Unreal
Foott revels in portraying the rest of Cork city and county in all its true beauty. From the Shaky Bridge and vistas of the city from the Northside to Rosscarbery and Skibbereen the blue sky scenes, glorious bright sunshine and spectacular drone footage combine to show the People's Republic in all its true glory – its lovable characters aren't the only reason The Young Offenders is like a giant tourist advertisement for Cork.

Cork Spottin'
As our two boys move around the city and county it adds to the fun trying to spot and name the area each scene was filmed in – possibly to the point where you have to pause the show and have a debate about whether that street is the South Mall end of Marlborough Street or the one down the back of the College'a Comm.

Actors Who Can Actually Act Scobey
To get buy in from Corkonians, series producer Peter Foott needed to cast superb actors for the roles of Jock and Conor and with Chris Walley and Alex Murphy he came up trumps.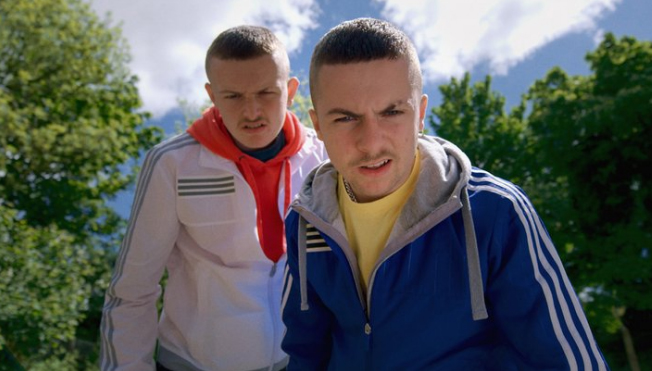 A thorn in the side of many Cork productions, especially theatre, has always been actors from affluent backgrounds trying and failing to do impeccable scobey accents – they can often be clumsy and if there's a badly misplaced "boy" or too much sing-song in the wrong part of a sentence it can cast a shadow over an otherwise credible production.

These boys really nail it though – they'd fit right in with the hyper hormonal "feenagers" outside the peace park on a Saturday afternoon.

Da Choons!
As well as making the Rebel county look amazing The Young Offenders makes it sound good too by peppering the series with top feel-good choons like Turnip Fish by Sultan's of Ping and After All by the Frank and Walters adding icing to an already delicious Cork cake.

The Darkness
Young Offenders script is hilarious and its cast deliver its gags with impeccable comic timing but the series wouldn't have been what it is if it was wall to wall craic. Neither Jock nor Conor have siblings, both have lost a parent and Jock's abusive, alcoholic father adds even more
weight and dependency to the boys' intense friendship. Foott uses this darkness to great effect – just as you're starting to get a lump in your throat, he fires off another magazine full of gags.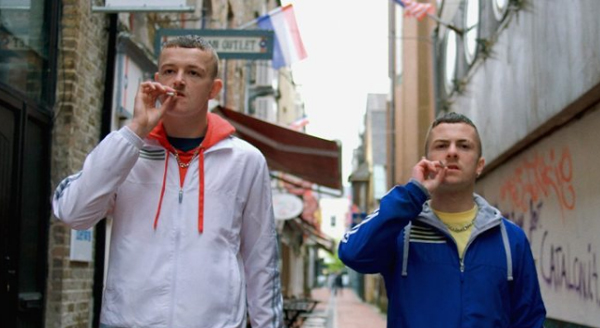 The Real Deal
Many Young Offenders fans have possibly never been to council estates like those inhabited by Jock and Conor. Those used in Young Offenders are not sets specially constructed for TV – and while there are some small exaggerations for comedic effect they are real places that real Corkonians live now and will continue to live.

Cork is rightly portrayed for the beautiful city and county that it is but the producers don't shy away from ensuring the series is authentic either.

Pure Cork Humour
The Young Offenders series is dense with nuggets of unexpected silliness like the moment Jock and Conor "check" each others togs before they jump off the Shaky Bridge or the eccentric Skibbereen Farmer and his hilarious hatred of a duck. The witty one liners, high farce and eccentric but authentic characters (like mad Billy Murphy) the humour is pure Cork.

That Finale
An unreal ending with an unreal song at the end of an unreal series. They saved the best for last in the side-splitting fourth episode.

They Left The Door Wide Open
For a second series that is. How will Jock cope with being a father? Is Conor's hilarious frigidity gone forever? Will his mam, Máiréad, and her Garda friend finally hit it off? So many questions and a burning desire to see more of Cork on the telly that a second series should be written into law.
Posted on Nov 27th, 2018
With much of the area due to become part of the city in the next few years, Glanmire has confirmed it was just trying to impress the rest of the northside with the "mass brawl" that took place in Riverstown last Saturday morning.
Posted on Nov 20th, 2018
A video taken in Bishopstown of a UFO has been dismissed with a seemingly rational explanation about the sun and the international space station. Fuck that though...
Posted on Nov 13th, 2018
Are you spending most of your day online posting vague, anecdotal evidence to back up your assertion that the Panaban is either the best or worst thing ever? Read on, bubbila.
Posted on Nov 5th, 2018
Last weekend a Dublin newspaper published an entire supplement called "10 Big Ideas to Make Dublin Better". Unfortunately our thoughtful and well considered suggestions were omitted due to the newspaper's anti-Cork bias. Here they are...
Posted on Nov 1st, 2018
Encouraged by his single figure showing in the Presidential election, Seán Gallagher vows to return from the sea and fight the 2025 Presidential election…