10 Reasons JBM Should Stay On
Our forum is rife with speculation about whether Jimmy Barry-Murphy will stay on as Cork hurling manager for another year. Here are our top ten reasons he should stay:

1. JBM never gave up as a player in both codes or as a hurling manager without winning an All-Ireland. If he gives up now it will be a blow to the county's mindset that the show is back on the road.

2. JBM's magnanimous post-All Ireland final interviews made the hairs stand up on the back of your neck. It is an honour for our county to be represented by such a gentleman while others sink to soccer style 'it-woz-the-ref-wot-done-it' post-match rants. Brian Cody's recent tirade against referee Barry Kelly after Cody had won the All-Ireland elevates JBM, as a man and a manager, even further.

3. JBM stayed neutral during the strikes and has brought unity to Cork hurling. We could really do without another controversial appointment and a plethora of players "retiring".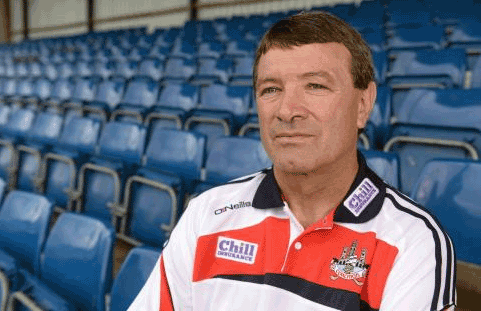 4. He can spot a superstar hurler even if he plays for a junior club like Munster final man of the match Seamus Harnedy from St. Ita's.

5. The ladies love him – he's the most handsome bainisteoir in the game (to be fair the competition isn't stiff: Little Davy Fitz, snarly Brian Cody and Anthony 'Eyebrows' Daly to name a few) which is always good for bums on seats.

6. Progress over the last three years has been phenomenal with lots of new exciting players. Losing momentum now would be a real setback.

7. We're back in Division 1 next spring. Lots of exciting games against top teams to look forward to.

So so close. Ref should have ended the game when Clare's goalkeeper pucks out the ball after Stephen Moylan's sideline cut.

8. Greyhounds cannot possibly give JBM as much joy as hurling. No pooper scooper required here (unless you're the opposition facing a Nash penalty of course).

9. After the Munster Final it was clear that the players have huge respect for JBM. We haven't had this "buy in" for a long time so let's capitalise on it.

10. In 2003 we won Munster and the following year we went on to win the All-Ireland by the back door. In 2014 we won Munster therefore in 2015…


Join the debate here:
http://www.peoplesrepublicofcork.com/forums/showthread.php?t=221999&page=720
Posted on Oct 8th, 2018
The building boom is back. Are you a hospital consultant thinking of getting into attic conversions or the CEO of a Fortune 500 company that fancies a career in roofing? Then know how proper langers treat their customers....
Posted on Oct 1st, 2018
In Europe's friendliest city more than one bicycle is stolen every..eh....several days. That's a whopping 0.05% of the population. Be careful out there....
Posted on Sep 17th, 2018
An 83 year old man foiled a three-man raid in Glanmire last Saturday evening and in the process delivered a beautiful kick up the arse to one of the humiliated raiders. Who else needs a Dinny Funt?
Posted on Aug 27th, 2018
A buskers' code agreed between buskers, traders and residents is well worth pursuing before wrapping ourselves up in legal knots and slapping low-income buskers with fines...
Posted on Aug 15th, 2018
It has been rumoured for years that Bob Marley lived in Cork...and possibly still does. Only that can explain the manic devotion to the reggae superstar on Leeside...